Full-featured organizer
With every newly activated iPhone 5c you also get the complete iWorks suite including Pages, Numbers, and Keynote.
Pages allows you to import, create or edit documents (doc, docx are supported). It isn't as powerful as some of its Android competitors, but it covers all the basics and will do for most of the users. It also needs to be updated with the iOS 7 skin, though.
Numbers supports Excel files and also covers all major functionalities you'll probably need. You can easily import files via iTunes too.
Finally, Keynote opens and edits (PowerPoint) presentations. It has all the tools you'll need to create a decent presentation.
The Calendar app has been revamped and has a very useful new feature. You can now drag and drop events if you want to move them to different days. Just tap and hold on an event and you can move it to a different day and hour.
The calendar benefits greatly from the Facebook integration. Birthdays and events from Facebook are immediately synced with your calendar but you still get the option to omit them from the Calendars tab.
You can view by list (iOS's agenda variant), day and month. There's also a toggle to get back to today if you've strayed too far back or forth.
Tilting your device to landscape orientation automatically opens up the weekly view, which lists all of your events in a side-scrollable fashion. Events are color-coded so you can recognize what's what with a quick glance.
Creating an event is done the same way as before. You can choose which calendar you want the event to be synced with, add a location, additional notes and set up an alert.
Here is the Calendars tab. You can customize the iCloud personal and job-related event colors to your liking. You can also create additional calendar entries, for example if you have two jobs (or projects), etc.
The Reminders interface has been changed as well. It comes with three default lists - Scheduled, Calendar and Reminders, but you can create your own lists as well.
Setting up a reminder is easy. The available options are time, place, repeat, priority and notes.
The calculator has a stylish flat new look but no new functionality.
Here is the refreshed Note app. You can share, copy and print notes.
The Clock app has got the new skin as well. It has world clock, alarms, stopwatch and timer. You can set any of the songs in your music library as an alarm sound. You can also choose from your custom ringtones.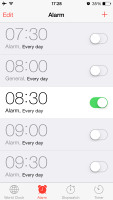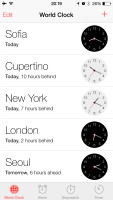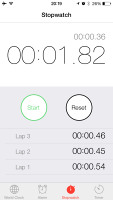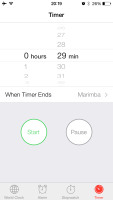 The clock app with alarms, world clock, stopwatch and timer
The Weather app has had a major update. It now offers live weather animations, a lot more weather information plus the time of sunrise and sunset.
You can pinch to zoom out and get to the cities view, which would show the weather in all the locations you have stored at the same time. Live animations are also available in the city preview. Night-time specific animations are available as well.
The compass app, besides the new interface, got some new functionality too. If you swipe to left you'll get an inclinometer. Unfortunately, the inclinometer only measure one of the angles of inclination, rather than both, so it's probably too early to retire your dedicated app. The Stocks app has new color scheme and UI.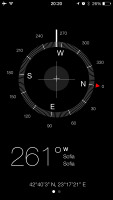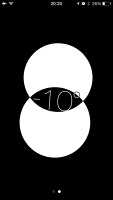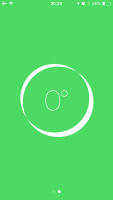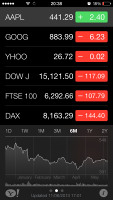 Compass and the new inclinometer • Stocks app
Voice Memos are available as well. You can capture practically unlimited voice memos and send them to others via a message or mail.
iBooks offers various font and color settings, but on a screen this size, it's just not the best e-reading experience. Pages are side-scrollable only and on a mobile phone that doesn't quite make sense.
The iBooks app is also a PDF viewer.
You can choose different fonts, reduce and increase the text size, change the background and play around with brightness.
The PassBook is an e-ticket app that handles all kinds of electronic tickets and reservations (including boarding passes), loyalty cards, coupons, etc. It's Apple's answer to apps like Google Wallet but without the additional NFC support.
The location-aware app makes the right coupon available in the right place and at the right time. The PassBook will report the balance on coupons and cards, let you check your ticket seats and can even show you relevant notifications (e.g. gate or terminal change for a flight).