Battery life
Underneath the back panel lies a non-user-accessible 1,510 mAh Li-Po battery, which is 70mAh more than the iPhone 5 had. This is basically the only department where the iPhone 5c got a minor upgrade. Apple says the battery should last for up to 10 hours of calls or 250 hours of stand-by, quite a bump up from the iPhone 5's promised 8 hours of talk time and 225 hours of standby. We're guessing the iOS 7 update has something to do with that as well.
We ran our traditional battery test and the iPhone 5c achieved a pretty good score of 52h, which means you'll only need to charge it once every 52 hours if you use it for an hour of talking, web browsing and video playback per day. Of course, your mileage will vary depending on use (calls and video are particularly taxing, whereas browsing endurance is great).
The score is just an hour better than the iPhone 5 results. The 3G talk time and stand-by endurances have been slightly improved, the web browser battery drainage is almost the same, while the video playback has strangely dropped by over 2 hours.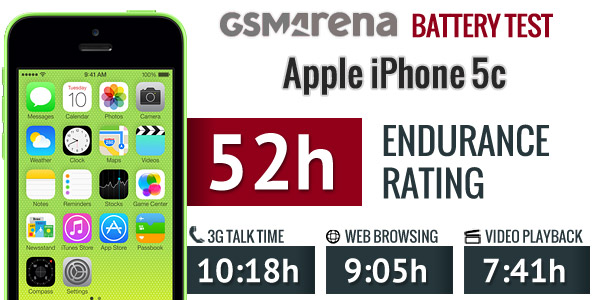 Its important to note that the iPhone 5c test unit (along with a couple of iPhone 5 units we have) had major issues with their stand-by. On three different occasions its dully charged battery got drained completely overnight. Here's hoping that Apple finds a fix for this as soon as possible as it's rather irritating to have to deal with this.
Handling
Apple iPhone 5c fits perfectly in most hands and is very easy to operate, while also being pocket friendly thanks to its compact size. The one thing that bothers us is the poor grip of the smartphone. As we mentioned earlier, you can easily drop the iPhone 5c because of its slippery plastic and not quite ergonomic edges. In the event you opt for this colorful smartphone you should be very careful when you picking it up from flat surfaces, or even as you're taking it out of your pocket.



Handing the iPhone 5c is a slippery affair
Display
The Apple iPhone 5c comes with the same 4" IPS LCD screen that premiered with the iPhone 5. It has a resolution of 640 x 1136 pixels, which adds up to a pixel density of 326ppi.
As expected, the display offers excellent colors, contrast and viewing angles. Because the front glass reduces reflectivity, sunlight legibility is great too. Just as we expected, the iPhone 5c display turned out to be as good as last year's iPhone 5 screen in our tests.
Display test
50% brightness
100% brightness
Black, cd/m2
White, cd/m2
Contrast ratio
Black, cd/m2
White, cd/m2
Contrast ratio
Apple iPhone 5c
0.14
160
1129
0.47
589
1233
Apple iPhone 5
0.13
200
1490
0.48
640
1320
Apple iPhone 4S
0.14
205
1463
0.52
654
1261
Apple iPhone 4
0.14
189
1341
0.39
483
1242
Sony Xperia Z1
-
-
-
0.38
580
1513
Sony Xperia Z Ultra
-
-
-
0.47
467
1001
Sony Xperia Z
-
-
-
0.70
492
705
Huawei Ascend Mate
0.23
222
982
0.67
711
1053
Samsung Galaxy Mega 6.3
0.12
160
1364
0.32
440
1379
Samsung I9505 Galaxy S4
0
201
∞
0
404
∞
Samsung I9300 Galaxy S III
0
174
∞
0
330
∞
Samsung Galaxy Note II
0
253
∞
0
478
∞
HTC Butterfly S
0.15
165
1117
0.43
451
1044
HTC One
0.13
205
1580
0.42
647
1541
Oppo Find 5
0.17
176
1123
0.51
565
1107
Sunlight contrast ratio
Nokia 808 PureView
4.698
Apple iPhone 5
3.997
Apple iPhone 5c
3.512
Samsung I9300 Galaxy S III
3.419
Samsung Galaxy S4
3.352
Samsung Omnia W
3.301
Samsung Galaxy S
3.155
Nokia N9
3.069
Samsung Galaxy Note
2.970
HTC One S
2.901
Samsung Galaxy S II
2.832
Samsung Galaxy S II Plus
2.801
Huawei Ascend P1
2.655
Nokia Lumia 900
2.562
HTC One
2.504
Sony Xperia Z
2.462
Samsung Galaxy S III mini
2.422
Motorola RAZR i
2.366
Samsung Galaxy Note II
2.307
Apple iPhone 4S
2.269
HTC One X
2.158
Nokia N8
2.144
Nokia Lumia 1020
2.103
Oppo Find 5
2.088
BlackBerry Z10
2.051
Apple iPhone 4
2.016
Sony Ericsson Xperia ray
1.955
Samsung Galaxy Camera
1.938
HTC Butterfly
1.873
Sony Xperia V
1.792
Sony Xperia U
1.758
LG Optimus 4X HD
1.691
HTC One V
1.685
LG Optimus Vu
1.680
HTC Desire V
1.646
LG Optimus G Pro
1.552
LG Optimus 3D
1.542
Nokia Asha 302
1.537
Nokia Lumia 610
1.432
Gigabyte GSmart G1355
1.361
HTC Desire C
1.300
LG Optimus L7
1.269
LG Optimus L9
1.227
Meizu MX
1.221
Sony Xperia E dual
1.203
Samsung Galaxy Pocket
1.180
Sony Xperia tipo
1.166
Samsung Galaxy mini 2
1.114
And here's how the Apple iPhone 5 display matrix compares to that of its predecessor. You can clearly see both are pretty much the same.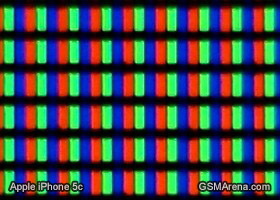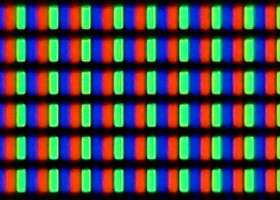 Apple iPhone 5c screen under a microscope vs. the iPhone 5 screen
iPhone displays have always had impressive image quality, but Apple is starting to fall behind by yet again delaying the release of an iPhone with a bigger display than 4". The company no longer holds the record for highest ppi on a mobile screen, and has even fallen behind in the pixel density race, where 1080p screens rule. Of course the difference between the Retina screen sharpness and that of the best on the market is only evident when you look from way closer than feels natural or comfortable, so we won't be taking any points away for the resolution.
Size is a bigger issue though and hopefully, next year's release of the iPhone 6 will see an increase in screen diagonal. Otherwise the Cupertino company runs the risk of seeing its market share continue to slip.