User interface (continued)
Do Not Disturb is, as expected, still an integral part of the iOS 7. It gives users further control on notifications, or rather their suppression. If turned on, it will mute incoming calls or alerts. You can allow calls from your favorite contacts and have the option to set a specific time interval in which you won't get any notifications.
There's a dedicated toggle to activate the DND feature and it can be customized in the Notifications submenu. When Do Not Disturb is on, a crescent icon appears next to the clock in the status bar.
According to Apple, iOS 7 offers multi-tasking for all apps. Previously the true multi-tasking was reserved only for navigation or music streaming apps, the rest had to go in suspend mode.
Now, this multi-tasking for all apps will surely drain the battery faster than Apple would have liked, so there is a catch. Yes, all apps will work in the background, but the iOS will learn which one of them you use most often and when.
Let's say you open the Facebook app every morning and don't use it for the rest of the day. The iOS will soon learn that and will optimize the app to work according to your schedule until you change it. This means most of the day and night the app will still be in suspend mode (push notifications will work of course), but the iOS will run Facebook shortly before your alarm goes on and load all the content. That way when you open it, your news feed will be already updated.
We noticed that apps also update in the background when push notifications come in. This is a part of what Apple calls opportunistic updates - the iPhone waits until a data connection is available and starts the updates then, so it doesn't need to activate the connection on another occasion and waste your battery.
We haven't spent enough time with iOS to give a proper judgment on how well the new multitasking works, but once we do we'll duly update this article.
All apps that use Cellular/Wi-Fi connection and can work in the background are listed under Settings -> General -> Background App refresh.
The task-switcher interface is invoked with a double tap on the Home key. It looks a lot like the webOS cards of old and, more recently, the HTC Sense Task switcher - all apps are presented with cards that you can swipe up to close. Each card has the respective app icon so you can easily recognize what's what.
The multitasking UI works in both portrait and landscape mode, but you cannot see more than three cards at a time. It's one of the limitations of the card interface and we suspect this is why HTC went for a different task switcher on the One, but here's hoping that Apple will at least fix the landscape mode down the line. By the way, you can close all three visible apps on the multi-tasking screen by swiping over all of them simultaneously with three of your fingers.
The iOS 7 Settings menu has the same layout as in previous versions but updated with the new flat and borderless look.
Besides the Background App Refresh, the iOS 7 offers even better control over the apps that use mobile data. The Cellular tab offers detailed cellular data breakdown by apps and services, allowing you to properly manage your resources.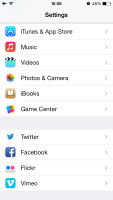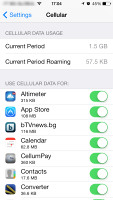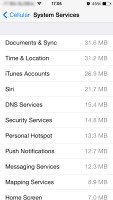 Settings • Cellular Data settings
Another thing worth mentioning is the Vimeo and Flickr integration in addition to Twitter and Facebook. Once you enter your account details in the settings you can upload your photos straight to your Flickr gallery, while your videos will go to your Vimeo. You just need to hit the share key on a picture or a video and use the dedicated Flickr/Vimeo icon.
The last major change about the user interface is the Back gesture available in all iOS 7 default apps (maybe developers will be able to extend the support to third-party apps after launch). Whether you are in settings, App Store, Messages, Notes, Reminders, Safari, etc. a swipe from the left side of the screen will take you one step back.
Performance
As we said, the Apple iPhone 5c is running on the last year's Apple A6 chipset. It is a still very snappy smartphone and the iOS 7 runs buttery smooth, as usual. The A6 features a custom-developed dual-core CPU (which shares many of its features with ARM Cortex-A15 CPUs), clocked at 1.3GHz. It matches the scores of most of the quad-core smartphones out there running on the Snapdragon S4 Pro.
First, we ran the new Geekbech 3 test to see how the CPU and memory is doing. The iPhone 5c scored the same as the iPhone 5 and exactly half the iPhone 5s scores. As you can see Apple A6 is a good match for the quad-core Snapdragon S4 Pro chipsets, but falls behind the Snapdragon 600 and 800 devices.
Geekbench 3
Higher is better
Sony Xperia Z Ultra
2670
Sony Xperia Z1
2638
Apple iPhone 5s
2561
LG G2
2243
HTC One
1972
Samsung Galaxy S4 (S600)
1869
LG Optimus G
1623
Huawei Ascend P6
1315
Apple iPhone 5
1296
LG Nexus 4
1288
Apple iPhone 5c
1280
HTC Butterfly
1257
Oppo R819
1047
HTC One mini
887
We also ran the iOS version of Linpack. The iPhone 5c is on par with the iPhone 5, while the iPhone 5s, just as Apple promises, does twice better.
Linpack
Higher is better
Apple iPhone 5s
970
Apple iPhone 5
546
Apple iPhone 5c
532
After that we did the multi-platform GFX Benchmark. The iPhone 5c has identical results with the iPhone 5 and is on par with the Adreno 320 GPU inside the quad-core Snapdragon S4 Pro chipsets powering the last year's droid flagships on the Egypt test, but falls behind them on the T-Rex benchmark.
GLBenchmark 2.5 Egypt (1080p off-screen)
Higher is better
Sony Xperia Z1
60
Sony Xperia Z Ultra
60
Apple iPhone 5s
56
LG G2
54
Samsung Galaxy S4 (Octa)
43
HTC Butterfly S
42
Samsung Galaxy S4 (S600)
41
Samsung Galaxy S4 Active
41
HTC One
37
Oppo Find 5
32
Google Nexus 4
32
Sony Xperia Z
31
Sony Xperia ZL
31
Sony Xperia SP
31
Apple iPhone 5
30
LG Optimus G Pro
30
Apple iPhone 5c
29
Apple iPhone 5
29
LG Optimus G
21
Samsung Galaxy Mega 6.3
17
Samsung Galaxy S4 mini
17
Samsung Galaxy Note II
17
HTC One mini
15
HTC One X
11
GLBenchmark 2.7 T-Rex (1080p off-screen)
Higher is better
Apple iPhone 5s
23
Sony Xperia Z1
23
Sony Xperia Z Ultra
23
LG G2
22
Samsung Galaxy S4 (S600)
17.1
Samsung Galaxy S4 (Octa)
17.1
Apple iPad 4
16.8
HTC Butterfly S
16
Samsung Galaxy S4 Active
16
Google Nexus 10
13.9
LG Optimus G
13.9
Sony Xperia Z
13.5
Sony Xperia Tablet Z
13
Sony Xperia ZL
12.8
Apple iPhone 5c
6.9
Apple iPhone 5
6.9
Samsung Galaxy S4 mini
6.4
Samsung Galaxy Mega 6.3
6.3
HTC One mini
5.6
Samsung Galaxy Note II
4.9
Finally we put the iPhone 5c through the SunSpider and BrowerMark benchmarks to test the Safari's Java Script and overall browsing performance. The iPhone 5, 5c and 5s trio running on the iOS 7 occupied the first spots in our charts, showing that Apple has done a great job of optimizing its browser.
SunSpider
Lower is better
Apple iPhone 5s
403
Apple iPhone 5
694
Apple iPhone 5c
704
Sony Xperia Z Ultra
750
Sony Xperia Z1
845
LG G2
908
Samsung Galaxy S4 (S600)
1046
HTC One
1174
LG Optimus G
1293
HTC One mini
1375
LG Nexus 4
1379
HTC Butterfly
1397
Oppo R819
1423
Huawei Ascend P6
3858
BrowserMark 2
Higher is better
Apple iPhone 5s
3549
Apple iPhone 5
2825
Apple iPhone 5c
2799
LG G2
2718
LG Optimus G
2555
Samsung Galaxy S4 (S600)
2438
Sony Xperia Z Ultra
2419
Sony Xperia Z1
2398
HTC Butterfly S
2378
Samsung Galaxy S4 Active
2338
Samsung Galaxy S4 mini
2314
HTC One
2262
Sony Xperia Tablet Z
2170
HTC One mini
2164
Sony Xperia ZL
2107
Sony Xperia Z
2093
LG Optimus G Pro
1801
Oppo Find 5
1797
Nexus 4
1794
Nokia Lumia 920
1774
Google Nexus 10
1773
HTC Butterfly
1475
Samsung Galaxy S III
1247
Benchmark scores are one thing, but what matters more is that iOS 7 runs buttery smooth on the iPhone 5c with no lags or delays. Loading times might be longer than we would have liked with some apps, but the overall experience is very solid.