Great phonebook
The phonebook has been updated with the new iOS borderless look and simple color scheme. The logic behind the phonebook app is completely the same though, there is just one new feature - Blacklist.
You can either add contacts to the blacklist from the Settings menu, or you can simply go to a contact and hit Block this Caller key at the bottom. Once blocked you will no longer receive calls, FaceTime and messages (SMS, MMS, iMessages, emails) from this contact. You can of course unblock them at any time.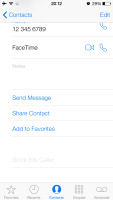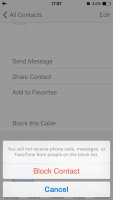 Blocking a contact • The Blacklist is in Settings -> Phone
As usual the phonebook offers Facebook and Twitter integration. After you set up your accounts the phonebook will automatically ask you to link your existing contacts with their social ones (if available).
The phonebook can search via the dedicated Search field at the top of the list of contacts or you can use the alphabetical scroll at the right.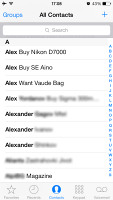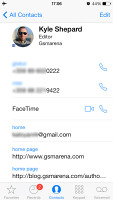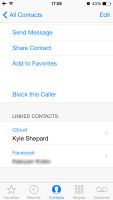 The Phonebook search field • viewing a single contact
Editing a contact is intuitive and gives you the option to include lots of additional fields, like several addresses, related people, web, email, birthdays, etc.
You can set different ringtones, message tones and vibration to your favorite contacts.
Since iOS 6 your iMessage and FaceTime ID is joined and the phonebook will automatically detect if either service is available with each contact.
Simple telephony
The iPhone 5c has very good reception and doesn't suffer from any issues with the embedded antennas as some of iPhones of old. The in-call quality is great as well.
The incoming call and in-call screens have gone flat too. The dialpad itself looks different, though it brings no new usability features. Smart dial is sadly, still missing.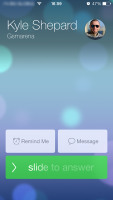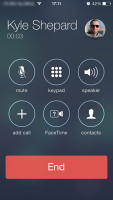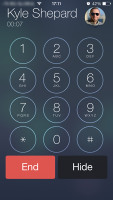 The incoming call screen • the in-call screen
You can reject calls via SMS since the last iOS update.
You can set the iPhone 5c to remind you to call back a person at a location or when you're leaving the current one, which is a nifty trick. Keep in mind that doing so will invoke constant use of GPS, which could in turn lead to a significantly reduced battery life but the phone would probably still last a day.
FaceTime comes as a system app in iOS 7 and looks just like the Phone app. It works both over a cellular data or Wi-Fi. The service now offers voice calls too, in addition to video conference. With FaceTime audio calls and iMessages, iOS users won't need Viber as much to connect with other iOS users free of charge.
As usual we've tested the loudspeaker performance of the new iPhone 5c. Unfortunately, the speaker is no better than the iPhone 5, which gives it a Below Average mark. We suggest keeping the vibration on the whole time otherwise you may miss a call or notification or two in noisier environments.
| | | | | |
| --- | --- | --- | --- | --- |
| Speakerphone test | Voice, dB | Pink noise/ Music, dB | Ringing phone, dB | Overal score |
| Sony Xperia Z | 60.1 | 58.3 | 61.6 | Below Average |
| LG G2 | 65.7 | 62.2 | 66.2 | Below Average |
| Apple iPhone 5c | 66.5 | 65.5 | 66.2 | Below Average |
| Apple iPhone 5 | 66.8 | 66.1 | 67.7 | Below Average |
| Samsung Galaxy S4 mini | 66.3 | 64.8 | 75.1 | Average |
| HTC One | 69.3 | 66.6 | 75.9 | Good |
| HTC One mini | 68.0 | 68.7 | 78.1 | Good< |
| Samsung I9505 Galaxy S4 | 70.6 | 66.2 | 77.3 | Good |
| Samsung Galaxy S4 Active | 72.7 | 66.6 | 78.1 | Good |
| LG Optimus G | 74.6 | 71.3 | 82.7 | Excellent |
New looks for the messaging department
The Messages app also gets the new iOS skin. It adds a new option in the conversation view - Contact. If you tap on this key, you'll get options to Call and FaceTime that user, or go to their phonebook profile.
The iMessage service lets you exchange instant messages between iOS 5 or later running iGadgets over Wi-Fi or 3G. You can send plain text as well as multimedia (pictures, sounds, videos) messages. The iMessage conversations are color-coded to differ from the standard SMS/MMS - their bubbles are blue instead of green. A cool thing about them is that each conversation is synced with the iCloud so you'll have it right there and available on all your iDevices, including your Mac (although synchroniszation is not flawless and the time stamps would get messed up at times).
The rest is pretty simple - you type, you add content (optional) and hit send. Adding multimedia is done either by hitting the small picture icon next to the text field or through the sharing menu in the gallery or supported apps (Voice Memos, Notes, etc.).
The default Mail client has the new looks but the functionality is unchanged.
VIP lists are available - emails from people on the list will be delivered to a dedicated VIP mailbox and will appear highlighted in the regular inbox. You can also set a different notification regime for VIP emails - so they appear on the lockscreen, for example.
You can also flag important emails. After you flag your first message, a new Flagged mailbox will appear gathering all of your flagged emails.
Attaching pictures and videos while composing an email is possible since the iOS 6 - just tap and hold on an empty space and use the popup menu. Bold, Italic and Underline font styles are available in the text editing options, as well as quote font size levels. Text selection works the usual way (tap&hold and select) and the available options will appear as soon you've made the selection: Cut/Copy/Replace/Bold Italic Underline/Quote Level. Quote Level will increase / decrease the quote symbols before the text you're quoting. Finally there is a built-in dictionary. It's very rich in content and conveniently works offline.