Great 8MP cam with filters and square photos
The iPhone 5c sports the same 8MP camera sensor and LED flash as the iPhone 5. It can take photos with up to 3264x2448 pixel resolution, HDR shots, plus square pictures and high-res panoramas.
The camera app has been completely rewritten. There are four modes available - Video, Photo, Square and Pano. There is no dedicated switch for those, you need to swipe to get to the desired camera mode.
There are no image settings besides the flash and HDR toggles, but there are 8 filters with live preview available for the Photo and Square modes - Mono, Tonal, Noir, Fade, Chrome, Process, Transfer and Instant.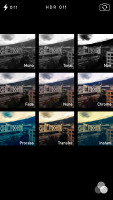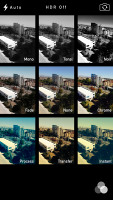 Filters with live preview are available in Photo and Square shooting modes
You can use filters and take square photos with the front camera as well.
The camera supports AF/AE lock as usual with tap and hold on the viewfinder. There are no resolution settings though, nor are there video resolution options.
The camera on the iPhone 5c delivers shots of similar quality to those produced by the iPhone 5. Those were some of the finest shots from last year with lots of fine detail and great color reproduction. Noise levels are decent, too, though we've seen smartphones do better.








Apple iPhone 5c camera samples
Here are two macro shots as well.
We've taken a few shots with an iOS 7-running iPhone 5 for comparison. Those prove the iPhone 5c and iPhone 5 share the same sensor and their output is as close as it gets. You can further explore the quality in our dedicated Picture Compare Tool.
Quite expectedly the iPhone 5c Panorama mode works greatly and offers seamless stitching and quick processing. Images come out with a maximum resolution of 28 megapixels and are saved in regular JPEG format. The second panorama was shot with an iPhone 5 for you to compare.



Panorama shots of iPhone 5c (top) and iPhone 5 (bottom)
Image quality comparison
We've added the iPhone 5c to our photo quality comparison tool and have put it against the likes of the iPhone 5 and iPhone 5s. The tool's page will give you additional information on what to look out for.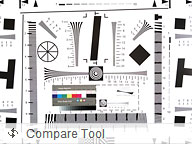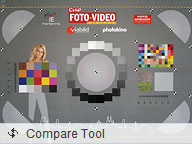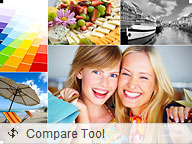 Apple iPhone 5c in our Photo Compare Tool
Great 1080p video recording
The camcorder user interface is almost identical to the still camera one. There is a shutter button, a shortcut to the gallery, which transforms into a still capture shutter once you start recording, and there is also a switch for the LED flash.
The photos taken during video recording are 2MP and pretty much useless.
In terms of actual video capture the iPhone 5c does a great job, as expected. The videos run smoothly, there's a great amount of detail and focusing is fast and accurate.
Videos have a bitrate of around 17Mbps, the framerate hovers around the 29 fps mark, while the mono audio bitrate is 63Kbps. What we find really frustrating is that Apple still doesn't utilize the full potential of the iPhone's microphones and the videos recorded with the iPhone 5c come with mono sound, which is particularly bad considering it has three mics on board.
Here's a direct download link to a 1080p video sample taken straight off the iPhone 5c. And this is a 1080p video shot with the iPhone 5.
Video quality comparison
Check out the iPhone 5c in our video comparison tool against the iPhone 5 and 5s.