Apple finally announced its next-generation iPhone along with the iPhone 5c at yesterday's event. Back at the event, the Cupertino guys announced the subsidized pricing of its newest smartphones in the United States, but didn't say anything about unlocked pricing for other regions.
Well, the pricing details of the iPhone 5s for the European market are no longer a mystery, as the prices have appeared in the official Apple stores around the old continent.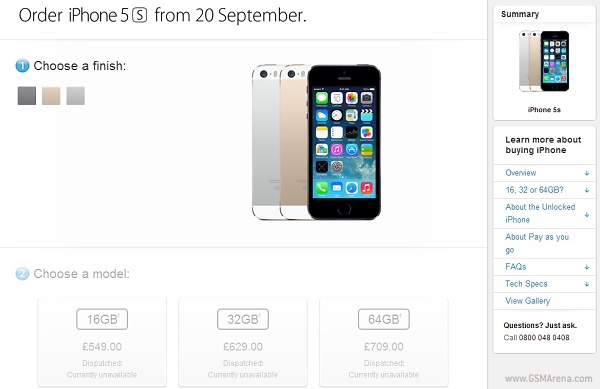 The 16GB model of the iPhone 5s will be up for grabs for £549, while the 32GB variant costs you £629 and the 64GB version is priced at £709. Surprisingly, the iPhone 5s costs more than its predecessor, - upping each step by £20. That's the second year in a row that Apple has upped the entry fee for the iPhone game, after the iPhone 5 launch price was £30 higher than the iPhone 4S before it.
The pricing of the iPhone has been increased for the rest of the Europe as well. The iPhone 5s will now cost €699 for the 16GB variant, while the iPhone 5 was up for grabs at a price point of €679.
Of course, the newest iPhone will be available for a much cheaper price with a carrier contract, but the details for those are yet to be announced.
The iPhone 5s along with iPhone 5c will be available in UK, France and Germany from September 20 with the rest of Europe to follow until the end of the year.
In case you missed yesterday's Apple event, you can check out our complete coverage here.
a
sorry for the spelling mistakes as i am not good writer with the phone it happened. sorry for the inconvenience. naterial stands for material.
?
what grade you have for your english test?
a
If new person want to buy new phone will ask friend or see in tv or shop guys ask then whoever has used apple will suggest apple and tv marketing in news and stuff they give info about the i phone but not the other stuff so thats way market have been...