War of the worlds
Apple iPhone 5s vs. LG G2 vs. Nokia Lumia 1020: War of the worlds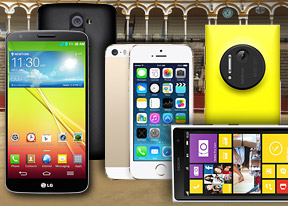 Introduction
You know what they say - three is a crowd. On a second thought though, no one here's got romance on their mind. The three-horse race has had its highs and lows, but it's the playoffs and we got a front-row seat. It's not about heroes and villains anymore, everyone's a bit of both. Each phone here will look at the other two and see the worst of both worlds. Now, can we keep a cool head and try and see the whole picture?
One thing's certain, the Apple iPhone 5s, the LG G2 and the Nokia Lumia 1020 just don't mix. The three platforms are usually targeting a completely different set of users. But each of these gadgets is the best of its species and that's the cross section of everything the industry has to offer at this point.
Apple's iPhone 5s has just hit the shelves, setting a new sales record to be broken yet again a year from now. It looks the same as iPhone 5, but is powered by a brand new 64-bit A7 chip and runs the impressively redesigned iOS 7. Easily the standard-setting touch interface has just got better and the content Apple users have access to is second to none.
Apple iPhone 5s over the LG G2 and Nokia Lumia 1020:
64-bit Apple A7 chipset and PowerVR (Series 6) G6430 GPU
iOS 7 with Siri voice assistant
Access to the impressively rich App Store
Touch ID fingerprint scanner
Premium aluminum build
Compact size
The LG G2 is the top Android smartphone at the moment (this may as well be the most precarious position of them all, considering the rate at which droid flagships are released). But still, the timing is spot-on and the G2 being what it is has nothing to do with luck. LG has equipped it with the latest Snapdragon 800 chipset, a massive 1080p display and Android 4.2. They didn't shy away from experimenting either, and the result is nothing short of impressive.
LG G2 over the iPhone 5s and Nokia Lumia 1020:
Huge 5.2" IPS True-HD+ FullHD display
Snapdragon 800 chipset with Adreno 330 GPU, 2GB of RAM
1080p@60fps video recording, dual-video recording, video stabilization
2.1MP front camera with 1080p@30fps videos
Great video playback capabilities
Stereo FM radio with RDS (over the iPhone 5s only)
Android 4.2.2 Jelly Bean with LG Optimus UI
Finally, the Nokia Lumia 1020 is the most powerful Windows Phone smartphone and by far the best cameraphone, with a 41MP camera sensor, optical image stabilization, xenon and LED, and even 4x lossless zoom. The video recording is limited to 1080p@30fps, but thanks to the HAAC microphones and the lossless 4x zoom you can even film at concerts without compromising the audio or video quality. The Lumia 1020 also has an AMOLED display and a premium polycarbonate unibody, while Windows Phone 8 has an unmatched office package and Nokia's free lifetime voice-guided navigation that also works offline.
Nokia Lumia 1020 over the Apple iPhone 5s and LG G2:
AMOLED display
41 MP camera (38 MP effective, 7152 x 5368 pixels, 1/1.5'' sensor size, 1.12 µm pixel size), Carl Zeiss optics, optical image stabilization, auto/manual focus, Xenon & LED flash
4x lossless digital zoom, high-amplitude audio capture (HAAC) microphones
Polycarbonate unibody
Windows Phone 8 with MS Office, Nokia Drive+, Nokia Pro Cam and Nokia Creative Studio
It's not like each of those phones is only as good as its weakest spot, but it's not as straightforward either as simply praise this one's camera, that one's app store or the other one's full-HD screen. This can easily get out of control and into a three-ring circus, but we're gonna give it a try anyway.
m
lg 2 is just a very nice phone...,. just too nice