War of the worlds
Apple iPhone 5s vs. LG G2 vs. Nokia Lumia 1020: War of the worlds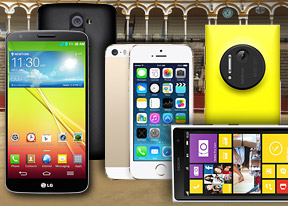 Final words
Are these the top three phones you can get? Well they certainly are in the running, but that's not the point here. It was a panorama instead of the best the three smartphone platforms have to offer. Luckily for the three - Apple iPhone 5s, LG G2 and Nokia Lumia 1020 - they are so different that they are not really in direct competition for the same buyers. We probably don't need this disclaimer, but it was worth pointing it out.
The LG G2 is arguably the best Android phone at the moment. Some of you, we suspect, want an Android because of its flexibility and options, and iPhone's premium build or fingerprint sensor aren't enough to change your mind.
The G2 has a beautiful screen and the size that makes web browsing, email, showing your photos and watching videos a wholesome experience. The battery life is amazing too, the phone can take heavy use in stride.
The camera has its flaws but a lot of them can be fixed with a software update and the Snapdragon 800 chipset will handle future Android versions and advanced games for some time to come. The glossy plastic is not perfect, and we like the design of the other two better. Also, much like with the phone - the 32GB version is a must, and again, much like with Apple, the modest 16GB upgrade comes with a generously overpriced pricetag.
The Apple iPhone 5s is a really well-rounded package. It looks great and the new chipset often beats Snapdragon 800, putting Android's core-count superiority in doubt. iOS 7 is not as flexible as Android and not as feature-rich as some custom skins, but its smoothness and ease of use are still very near the top.
One thing that can turn you away from the iPhone 5s is the screen - even entry level phones have gone beyond 4" on other platforms. Yes, it's a great screen in terms of colors and sunlight legibility, but there's no substitute for physical size. A 4.5" makes a huge difference in most productivity and multimedia applications. The geeks in us find it hard to forgive Apple for sticking with the same small screen for two years in a row, while competing phones screens have been growing in leaps and bounds.
The camera is quite good with the video somewhat surprisingly coming out on top, but 8MP stills don't quite hold up against 13MP Android shooters, let alone Nokia's cameraphone monster.
The Nokia Lumia 1020 dominated in still photography and did very well in video recording. Nokia's focus on proprietary camera lens apps also makes sure you'll be getting fun new options with the 1020 camera.
We probably could live with the hump but the slow shot to shot time (up to 4sec) is a deal-breaker by our books. And camera aside, you have to make a few other sacrifices if you're going with the Lumia 1020. The relatively large and thick body, coupled with a small battery is the first.
Software doesn't help either - Windows Phone 8 still hasn't matured as a platform even after the Amber update. It's not even 3 years old, iOS has been around for nearly twice as long and Apple is adding new features every year and polishing old ones.
The OS also holds back the hardware - you can't have a 1080p screen because of Windows Phone (which means no 5" screens with proper pixel density) and you can't have a powerful chipset. That makes a difference for gaming (a major section of any app store) and even with a custom chip Nokia couldn't get the shot-to-shot time of the camera to acceptable levels. The GDR3 update might fix all that, but it may be too late for the Lumia 1020.
The iPhone 5s will keep many iPhone users happy for another year, but the relatively small changes won't have many people defecting from Android. The insistence on this kind of screen size may as well cause outbound traffic, though there's no evidence of that for the time being.
The LG G2 will enjoy the affection of millions of Android users with its large screen and thin bezels, great battery life and the most powerful chipset on a droid. At least until the other companies start unleashing their brand new droids in the coming months. And some of them already have.
The Nokia Lumia 1020 will reign supreme in imaging for quite some time to come, but the gap between it and competing flagships will be only growing wider in terms of equipment and performance.
Each of these three smartphones has their strengths and weaknesses, and while the best always lies ahead, these three are like a snapshot of how far the three competing OS have come and they will surely stay at the top for a while. Shame such an impressive combination of features has to be split three ways. On a second thought, thank goodness the smartphone future is multiplied by three.