War of the worlds
Apple iPhone 5s vs. LG G2 vs. Nokia Lumia 1020: War of the worlds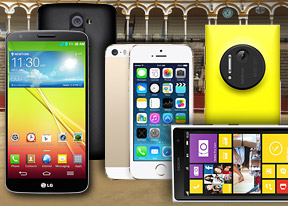 Display comparison
Apple iPhone 5s relies on the familiar 4.0" Retina display that is actually an IPS TFT unit with a resolution of 640 x 1136 pixels and 326 ppi. The LG G2 has the biggest and the highest resolution display with its 5.2" IPS 1080p screen (424ppi). Finally, Nokia's Lumia 1020 is the only one to feature an AMOLED screen with PureMotion HD+ ClearBlack technology. It's a 4.5" unit with 720p resolution and 332ppi pixel density.


Apple iPhone 5s vs. LG G2 vs. Nokia Lumia 1020 display
All three displays are protected by a Corning Gorilla Glass, but Apple went even further with an additional oleophobic coating that lowers the fingerprint smudging.
The iPhone 5s and G2 displays use conventional RGB matrices with absolutely identical pixel arrangement. Of course the LG has the advantage of its pixels being much smaller due to the higher pixel density.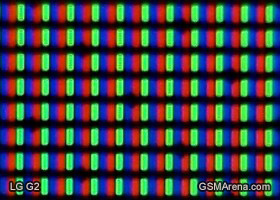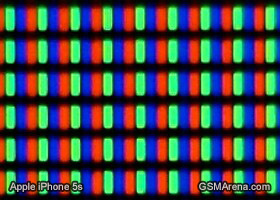 Apple iPhone 5s and LG G2 matrices under a microscope
The AMOLED display on the Lumia 1020 on the other hand relies on a PenTile matrix with two subpixels per pixel. At this kind of density this makes little difference however - you can notice it if you put it next to the G2, but you'll have to look pretty hard. And when it's the WP8 interface that you are looking at, PenTile makes no difference whatsoever.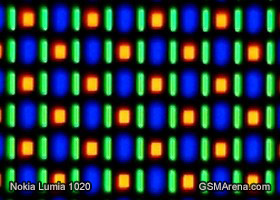 Nokia Lumia 1020 matrix
Our tests confirmed that the Nokia Lumia 1020 screen is the one with the best contrast due to the naturally deep blacks inherent to AMOLED technology. Nokia has even supplied the Lumia 1020 will a cool color profile app that lets you tune the saturation and color balance to your liking. If oversaturated colors aren't your thing you can tune them down to more realistic levels and if you like that effect you can go all the way up.
The LG G2 is the leader in terms of brightness and came second in the contrast test, while the iPhone 5s Retina unit slides right behind it. Differences between the two LCD screens in terms of image quality are pretty negligible though.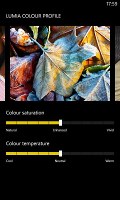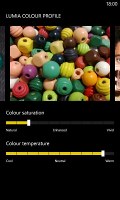 Nokia Lumia 1020 display profile settings
Display test
50% brightness
100% brightness
Black, cd/m2
White, cd/m2
Contrast ratio
Black, cd/m2
White, cd/m2
Contrast ratio
LG G2

0.10

149

1522

0.45

667

1495

Apple iPhone 5s

0.14

163

1145

0.49

596

1219

Nokia Lumia 1020

0

172

∞

0

398

∞
We also put those three devices through our sunlight legibility test and the iPhone 5s did a lot better than the other two. Nokia Lumia 1020 and LG G2 both were close to each other, but even though they fell behind the iPhone 5s result, their screens are still usable under direct sunlight and won't give you a hard-time operating the devices outdoors.
Sunlight contrast ratio
Apple iPhone 5s
3.565
Nokia Lumia 1020
2.103
LG G2
1.976
Winner: LG G2. LG G2 has the biggest, brightest display with the highest resolution. Quite expectedly the G2 screen is really sharp with the excellent 424ppi ratio and its color reproduction is more accurate than Lumia 1020's AMOLED. All those wins are enough to compensate for its unspectacular performance in direct sunlight.
Runner-up: Nokia Lumia 1020. The AMOLED screens are still among the best on the market and the extra punch they provide is preferred by many. It is bigger than the 4-inch Retina and with better contrast. This is, along with the larger size, is enough to easily overshadow the iPhone 5s victory on the sunlight test.
Third place: Apple iPhone 5s. The 4" Retina is a great screen with excellent image quality, but when you put it next to the much ampler displays of the other two, it just can't compete. It's no longer at top of the food chain when it comes to density either, so it only has the top-notch sunlight legibility going for it in this battle.
Battery life
Next up, we come to the all-important battery life - something power users highly regard. The LG G2 has the most demanding chipset and the biggest screen to feed, which should naturally draw more juice. However it also has a 3,000 mAh Li-Po battery to rely on - the capacity is almost as big as the other two combined.
Nokia Lumia 1020 is powered by a 2,000mAh Li-Ion battery, which may not be as big as some would have hoped for, but Windows Phone 8's tight management of background processes might help it stand out here.
Finally, Apple's latest iPhone 5s has a 1,560mAh Li-Po battery, which is probably the best Apple could fit in the small shell. Still the iOS and the A7 are known for the top-notch battery optimizations, so the smaller capacity might not be too much of a problem.
As usual, our first test is all about 3G talk time. The LG G2 did amazingly lasting a minute over 25 hours before its battery went dead. Next is the Lumia 1020 with an endurance of over 22 hours, and finally, we get a rather modest score (by these standards anyway) out of the iPhone 5s.
Talk time
LG G2
25:01
Nokia Lumia 1020
22:13
Apple iPhone 5s
10:46
LG G2 also bested our dedicated web browsing test. It managed to last more than 11 hours, while the Lumia 1020 battery died half the way. The iPhone 5s slides inbetween, but closer to the top with its 9:58h endurance.
Web browsing
LG G2
11:22
Apple iPhone 5s
9:58
Nokia Lumia 1020
5:50
Video playback endurance is where the Lumia 1020 AMOLED screen finally demonstrated its strength. The WP8 handset played a looped video for a little bit over 13 hours before its battery reached 10%, while the LG G2 lasted an hour less. The Apple iPhone 5s scored decently, but it wasn't enough to beat the Lumia 1020 or the G2.
Video playback
Nokia Lumia 1020
13:12
LG G2
11:51
Apple iPhone 5s
10:31
Keep in mind that the Apple iPhone 5s suffers from a stand-by drain bug that caused it to die on several occasions when left with a full charge on stand-by overnight. It's probably something that Apple will address shortly with a firmware update, but early adopters should be aware of it.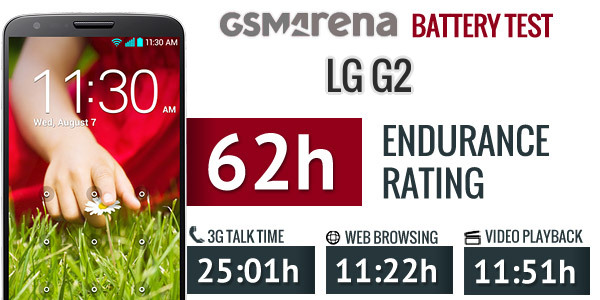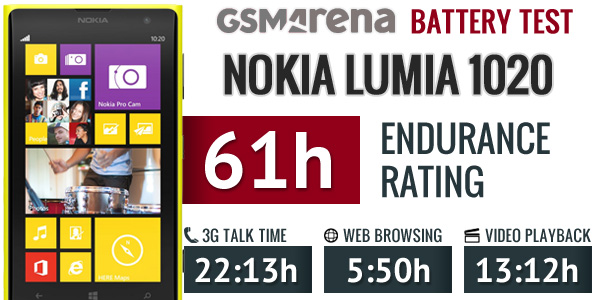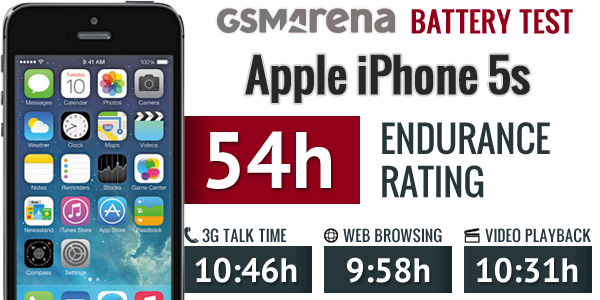 Winner: LG G2. Despite a very respectable performance by the Nokia Lumia 1020, the LG G2 is the clear winner here. It outscored the Lumia 1020 on the call test, beat it on the web browsing test by a mile, and it also remained on par with it when playing videos.
Runner-up: Nokia Lumia 1020. The Lumia 1020 overall battery endurance rating is just an hour less than the LG G2, however it's a long way behind when it comes to web browsing and calling endurance and only marginally better in video playback, which is what really matters to power users (and those are usually the ones shopping flagships). The Lumia 1020 has to be given credit for offering the most efficient stand-by of the trio, though.
Third place: Apple iPhone 5s. Posting the lowest endurance rating and showing that irritating stand-by drain bug, the Apple smartphone is some way off its competitors here. Its excellent web-browsing endurance that puts the Lumia 1020 will provide some consolation, though.