War of the worlds
Apple iPhone 5s vs. LG G2 vs. Nokia Lumia 1020: War of the worlds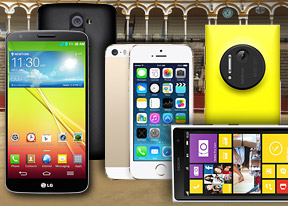 Software overview
All three phones run on up to date versions of their operating systems. Apple iPhone 5s has the latest iOS 7 in charge of operations, Android 4.2.2 ticks inside the LG G2 (4.3 is on the way) and the latest Windows Phone 8 with Amber update runs on the Nokia Lumia 1020. These three competing systems are very different in the way they are operated, but they have a few things in common - rich functionality, intuitive UI and rich selection of third party apps. Let's now see how they stack up against each other.
Apple iPhone 5s
Apple iPhone 5s runs on the newly released iOS 7. It comes with entirely new looks, lots of new features and optimizations, though its underlying operation logic remains the same. All of your apps are on the homescreen, you can tuck them away in folders and there is the familiar dock that can take up to four shortcuts.
The iOS 7 brought the long-awaited Control Center (a swipe from the bottom of the screen) with connectivity toggles, music controls, few app shortcuts and system-wide sharing options. The multi-tasking has been tweaked too - now it is adaptive and you can even choose which apps can run in background.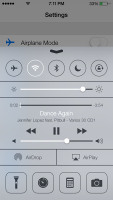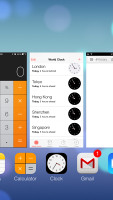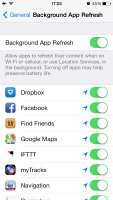 Apple iOS 7: Control Center, multi-tasking UI, background app refresh
The iOS 7 also offers an updated Notification Center with three tabs, dynamic wallpapers, and automatic app updates. Do Not Disturb mode is also a nice touch.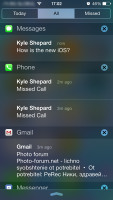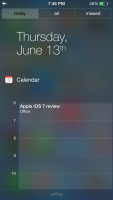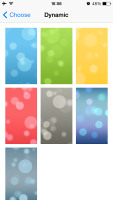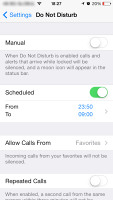 Notification Center, dynamic wallpapers, DND mode
What makes the iOS 7 better than the rest of the competitions is:
Impressively rich application and music stores
Notification and control center (over Windows Phone only)
Simple to use due to flat one-level UI
Regular system updates
Siri voice assistant
iCloud synchronization
Life-time voice-guided navigations via Apple Maps and Siri
Do Not Disturb mode (over Windows Phone only)
So, the iOS 7 definitely has its strengths. It looks fresh, offers functionality that is enough for the majority of users and, not to be underestimated, many of the cool games hit the Apple's App Store first.
LG G2
LG G2 runs on Android 4.2.2 though the Optimus UI customizations tun so deep you'll barely see much of the Google OS looks in there. Android OS, unlike the iOS, offers widgets and shortcuts on its homescreen, while all the apps are located in the app drawer. The smartphone relies on virtual buttons that can be customized in terms of count, layout and even skin.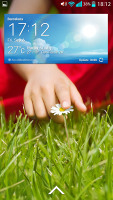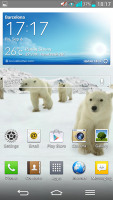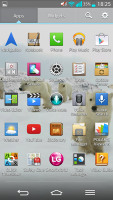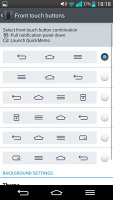 LG G2 UI: lockscreen, homescreen, app drawer, customizing the touch buttons
LG's lockscreen offers widgets plus and the largest variety of unlock options around (though there isn't anything quite like the TouchID fingerprint unlock on the iPhone 5s). It can be entirely disabled too. LG has come up with this cool way to wake the screen up with a double tap. It's not entirely new as Nokia had it first, but it works like a charm.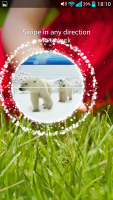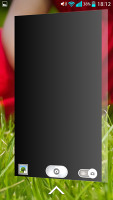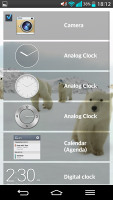 LG G2 lockscreen: effects, camera pane, widgets
LG has preloaded the G2 with tons of stuff that will take days to explore everything. There is Guest Mode similar to the Kid's Corner in Windows Phone 8, Q-Slide multi-tasking which launches different apps in small windows anywhere on the screen, there is the Slide Aside app switching too.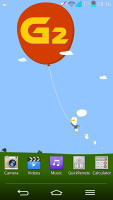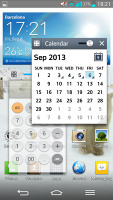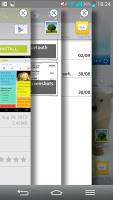 LG G2: Guest Mode, Q-Slide apps, Slide Aside UI
Another notable feature of the G2 is the Quick Memo. It allows you to take screenshots of whatever and take quick notes or drawings on it. Clip Tray on the other hand snaps various content from pretty much everywhere and you can paste it later wherever you like.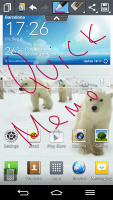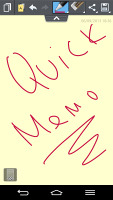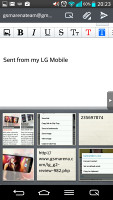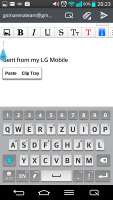 Quick Memo and Clip Tray in action
Finally, the LG G2 also offers Quiet mode, quite similar to iPhone's Do Not Disturb. Here is a quick list of G2's main weapons against the competition.
The most functional and highly customizable UI
More open nature of the platform enables apps unavailable elsewhere
Notification area with toggles (over Windows Phone only)
Widgets on lock and home screens
Quick Memo and Clip tray for saving various content across the UI
Quiet mode (over Windows Phone only)
Guest mode (over iOS 7 only)
Q-Slide and Slide-Aside multi-tasking and app switching
Full access to the file system
Various precious Google services
Currently Android is the most customizable and most capable operating systems and that's why it has come to dominate the market so convincingly. You can even install different launchers (replacing the Optimus UI) without risking your warranty with rooting. The full access to the file system is another excellent argument for the Android fans.
Nokia Lumia 1020
The Lumia 1020 runs on the latest Windows Phone 8 iteration called Amber. The OS also relies on flat looks. It has just two homescreens - a list view of all of your apps and the main homescreen (Modern UI) with live times, where you can pin pretty much everything - apps, links, contacts, songs, videos, etc.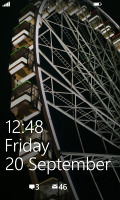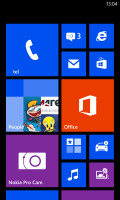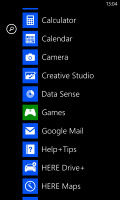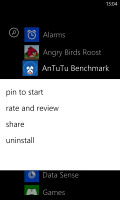 Lumia 1020: lockscreen, homescreen, app list
Windows Phone 8 lets you resize the live tiles. You can opt between quarter, normal and double size. Each app displays different content on those tiles, which makes your homescreen look alive.
We already mentioned the Kid's Corner. It's a second lockscreen what will lead you to a brand new homescreen where you can pin some content for your kids and make the rest of your OS inaccessible.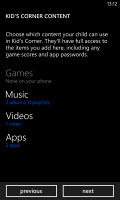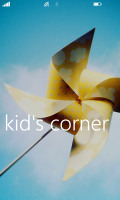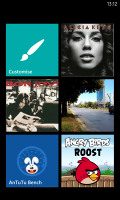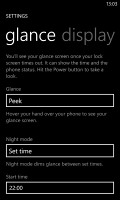 The Kid's corner • Glance screen options
Windows Phone 8 still lacks a notification center and quickly accessible connectivity toggles, though those are rumored to come with the upcoming Windows Phone 8.1 update.
Nokia provides the so-called Glance screen on its high-end Lumia phones, which displays the clock and some notifications on the screen while the phone is asleep (a feature coming straight from the golden Symbian era).
Windows Phone 8 also proves life-time voice guided navigation that doesn't require a data connection. Depending on your version of Drive or Drive+, you'll either get a license for one country or the whole world.
The full version of the mobile Microsoft Office Suite comes as standard issue with Windows Phone, letting you view or editing documents, spreadsheets and presentations.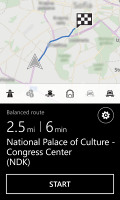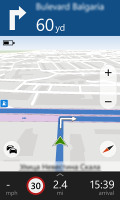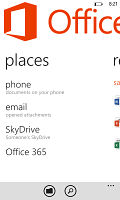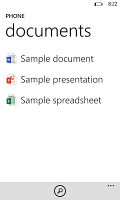 Lumia 1020: Nokia Drive+, MS Office Suite
Finally, Windows Phone is the only one to offer really deep Facebook integration plus Xbox Live support. You can access various content from your Xbox right on your phone, you can even control the console remotely.
Here is where Windows Phone 8 is better than the competition.
Live tiles
Glance screen
Kid's corner (over iOS 7 only)
Offline voice-guided navigation
Microsoft Office 14.5 Suite
SkyDrive integration with 7GB free storage
Open file system (over iPhone only)
Xbox Live integration and control over your Xbox
The Windows Phone 8 OS hasn't been updated for almost a year now and is certainly trailing the competition at this point. Microsoft is hoping to even the odds with its upcoming update, but that might arrive when it's too late for the Lumia 1020.
The Windows Phone Store is quickly catching up in terms of important apps available there, but there are still some major names missing. The Microsoft OS is also the least user customizable of the three and the one to have the most confusing Settings menu. The way we see it, its major selling points are the innovative UI, complete MS Office suite and the offline navigation, but those are just not enough.
Winner: LG G2. The Android OS is highly customizable and with functionality that the other two can't come close to. It has an open file system, file manager, best multi-tasking and huge developer community. Its last standing problem was the sub-par performance, but that stopped being an issue when the 4.1 Jelly Bean release came out.
Runner up: Apple iPhone 5s. The iOS 7 might have lots of restrictions, but it is very easy to use, looks great and gives you access to the world's top-grossing app and content stores. It's got excellent after-market support, too, with each iPhone getting timely updates for at least three years.
Third place: Nokia Lumia 1020. An awful long time has passed since the last major update of the Windows Phone 8 OS and for a platform this young this is pretty bad news. The app catalog also pales in comparison to the the other two platforms. Software-wise the two major selling points of the smartphone are the complete MS Office suite and the offline navigation, but those are just not enough to give the Lumia 1020 anything but third place here.