War of the worlds
Apple iPhone 5s vs. LG G2 vs. Nokia Lumia 1020: War of the worlds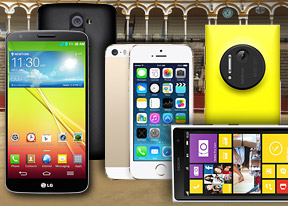 Image galleries
Apple iPhone 5s
The iOS 7 brings a brand new gallery app on the iPhone. Images are now organized by date and location, for those that have been geotagged. This view is called Moments, with a description always at the top, with time, place and date. Multiple selection, delete and sharing options are available. You can go a step back, to Collections view where you can better view your sorted photos into groups with labels and much smaller thumbs. Those thumbs are still clickable, you can even scroll them to find the one you're looking for (small thumbs are hard to navigate through though). Finally, there is the Year view. It squeezes your collection into tight grids for each year.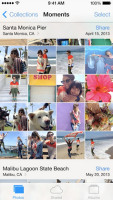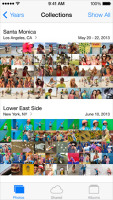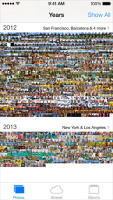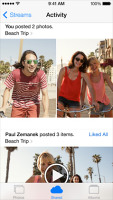 Apple iPhone 5s gallery: Moments view • Collection view • Year view • Shared photo streams
Photo Stream sharing, which acts like a social sub-network, works really well and is very simple to set up. You choose which pictures to share and who you'd like to share them with. Your buddies on the receiving end will be able to like them and post comments. Your friends and family can add their own photos to the Shared photo albums. You can even share a Photo Stream publicly to anyone with the link.
LG G2
The LG G2 uses the same gallery app as the Optimus G and G Pro - in effect, a near stock Android gallery with a few custom touches here and there. It automatically locates images and videos no matter where they are stored on the phone. By default, images are sorted by albums, but you can sort by location or time as well. The different sets are tiled neatly across the screen. You can expand or shrink individual albums using a pinch to zoom gesture, making the elements of the grid of photos either really huge or very tiny.
Once selected, you can view an image close up by pinch zooming or double tapping on the desired area. There is a sliding gallery along the bottom which allows you to quickly browse other images in the album. On the top there are three shortcuts for quickly sharing, editing or deleting the selected photo.
Nokia Lumia 1020
The main view of the Photos hub offers four options - camera roll, albums, date and people. A swipe to the left reveals what's new, which displays your Facebook friends and liked pages' new picture galleries. Another swipe shows your favorites section, where the photos you've faved are displayed.
Albums feature the camera roll, the preloaded system pictures and all of your Facebook albums. A flick to the left shows all your pictures sorted by date. You can't sort individual camera roll photos into albums, though.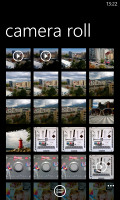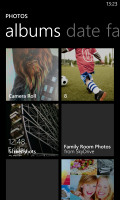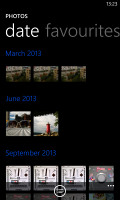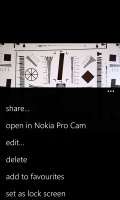 Nokia Lumia 1020 image gallery
Winners: Apple iPhone 5s and LG G2. The iOS and G2 galleries share great looks, awesome sharing features, and great organization. Photo Stream is an awesome perk of the iPhone 5s, but it's balanced by the very enjoyable experience that is browsing photos on the 5.2" screen of the G2.
Third place: Nokia Lumia 1020. The Windows Phone gallery offers less sorting and viewing options and looks stale.
Video players
Apple iPhone 5s
Many things have changed in iOS 7 but the video player is definitely not one of them. You can upload only supported formats via iTunes or purchase videos from the iTunes store. This is an extremely disappointing showing by a platform that is supposed to excel at multimedia consumption.
LG G2
The video player on the G2 has a fairly simple interface, giving you just a grid of all the videos on the device. There's an alphabet scroll to help users locate videos faster but that's about it. You can, of course, play videos from the Gallery if you prefer its folder-centric organization. For each video you've started, the thumbnail gets a tiny clock icon, which shows how far into the video you are.
The video player supports everything - DivX, XviD, MKV and MP4/MOV up to, and including, 1080p resolution. The AC3 audio codec (among lots of others) is supported, so you don't have to worry about the sound. There are were no issues with higher bitrates and file sizes, either. Subtitles are available, too.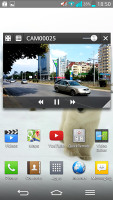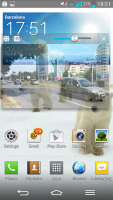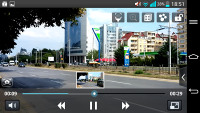 Q Slide in action • Live video preview
Some cool features the G2 offers are the pop-up like playback you can switch the player to, and live preview - it's a YouTube-like pop up preview of the video above the scrubber. Speed Control and live zoom are available too.
Nokia Lumia 1020
The video player of the Lumia 1020 is integrated into the Music + Videos hub. It has a very simple interface - you have fast forward and rewind controls, a timeline and a video size button that toggles full-screen viewing. Since Windows Phone 8 is no longer Zune dependent, you can easily upload videos from your computer via the USB mass storage mode.
The video player in Windows Phone 8 has greatly improved codec support since WP 7.x. Now it supports XviD (though we had some issues with this codec), DivX and MP4 videos up to 1080p resolution. The few things it won't play are MKV files and videos using the AC3 audio codec. There is no subtitle support at this point.
Winner: LG G2. Quite obviously LG G2 has the most capable, feature-rich and powerful video player among the three.
Runner up: Lumia 1020. Windows Phone 8 offers USB mass storage and supports a lot more codecs than its iPhone rival. Even if you get a more versatile third-party player for iOS, the iTunes-dependency is still an issue, which the less than lightning-fast cloud transfer cannot quite make up for.
Third place: Apple iPhone 5s. The latest Apple flagship definitely has the worst video capabilities among all three smartphones. Its video player hasn't been improved in ages and should definitely be higher on the priority list for the iOS 8 development.