Following the curve
Apple iPhone 6 Plus review: Following the curve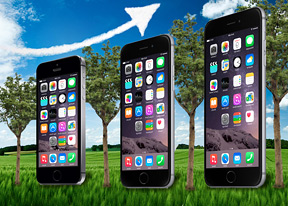 Safari supports plugins, suggestions
The Safari web browser welcomes third-party developers too. It now supports extension access via its contextual menu. They will be able to auto-fill forms, use the Touch ID security features and translate webpages. It's up to the developers to come up with creative uses and hopefully we'll get a lot of those at launch.
Other than the Safari extensions, Apple has improved its Private Browsing. It's more intuitive now and won't make you convert all of your currently opened tabs into Private ones.
Landscape view is available too and it looks similar to the iPad's Safari. The tabs in this view mode are always visible as opposed to the iPhone, which makes moving between them easier. You can also rearrange the tabs, you can add new ones or switch to private browsing.
As we mentioned in the user interface chapter, the smart suggestions from Wikipedia and the App Store/iTunes Store work within the Safari browser, too.
Safari supports the iCloud keychain where you can store all of your passwords and credit card info (sans the security code). There is also a password generator available, in case you are out of ideas. What's good about this setup is that all your save content from the computer version of Safari is now available straight on your phone as well.
In much the same way, iCloud syncs your opened tabs, along with offline reading. Safari also allows you access to your multimedia content without exiting the browser.
Much like before, if a page is compatible with the integrated Reader (most of the article pages out there are) you get a Reader button right into the address bar as soon as the page loads. The Reader strips the webpage of ads and makes the layout and font size more suited to a smaller phone screen.
Other apps
With every newly activated iPhone 6 Plus you also get the complete iWorks suite including Pages (viewing, editing docs), Numbers (viewing, editing excel files), and Keynote (viewing, editing presentations).
Apps such as Calendar, Notes, Weather, Calculator and Alarm are available, but they received very few upgrades, if any. The Calendar and Notes received the new landscape optimization upgrades, while the Notes app is now capable of rich text editing.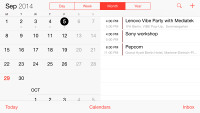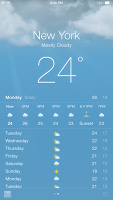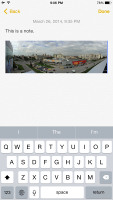 Calendar • Weather • Rich Text editing in Notes
There is a new app coming with iOS 8 - Tips. It will show new tips from Apple in your notification area each week, helping you make better use your iDevice better with intuitive demos and suggestions.
The iBooks is now part of the iOS package and will be pre-installed once you upgrade to iOS 8. Its interface mimics that of the App Store, but the first tab is still your virtual bookshelf.
Reminders, Compass app, Stocks and Voice memos
are available as part of the default iOS 8 package.
The PassBook is an e-ticket app that handles all kinds of electronic tickets and reservations (including boarding passes), loyalty cards, coupons, etc. It's Apple's answer to apps like Google Wallet. Now it also handles your credit card info if you sign up for Apple Pay.
The location-aware app makes the right coupon available in the right place and at the right time. The PassBook will report the balance on coupons and cards, let you check your ticket seats and can even show you relevant notifications (e.g. gate or terminal change for a flight).
Apple has replaced Google with TomTom as map provider for the iOS native Maps application. It also offers voice-guided navigation courtesy of Siri. The navigation will work even on the lockscreen or in the background. Real-time traffic reports are available and Apple is also crowdsourcing the live traffic info anonymously from iOS users on the road. Turn-by-turn walking directions are available as well.
The 3D Flyover mode is a great bonus for your viewing pleasure. When you enable the 3D view (outside navigation) you will be able to explore cityscapes from birds-eye view. The currently available selection is quite limited, but more and more areas are joining Flyover in time. You can zoom, tilt and rotate using two-finger gestures to explore 3D landmarks rendered in real time.
As of its 8th version, iOS features a Health suite which gathers all data collected from the device's tracking apps and various third-party accessories. Apple has teamed up with a number of partners on the health suite including Nike and the Mayo clinic.
The app offers a Medical ID card that lists all of your health-related data, emergency contacts, medication, intolerances and doctors' contacts.
The Health app will store and track stuff like calorie burnout, periods of sleep and activity, among others. Its dashboard is where you are supposed to find all important data at a glance.
During the iOS 8 announcement, Apple unveiled several new features for its App Store. Better and smarter search with a new interface, App Bundles offered by devs, embedded videos in the app descriptions a la Google Play Store, and devs will be able to invite users to closed beta testing of future versions of their apps.
We've yet to see a beta section in the App Store making an appearance and how the beta app seeding will work. The promised App Bundles are already available though and many developers are now offering app bundles on discounted prices.