Following the curve
Apple iPhone 6 Plus review: Following the curve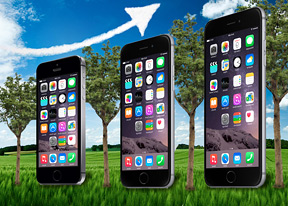 Final words
Apple said they will never make a small tablet, or a large phone. Maybe some of you know better than to trust such claims, but we're surprised with the results - a mixture of pleasant surprise and some disappointment.
It was clear that the 4" screen of the iPhone was too limiting for the modern market but Apple played it safe with both a 4.7" base model and a phablet-sized 5.5" version, the iPhone 6 Plus. Atypically, Apple used a standard resolution for the screen, 1080p, which is great for content creators but doesn't help app developers for now as it's just another resolution they need to support.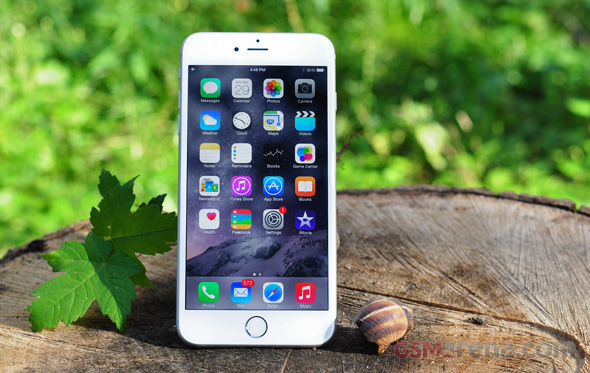 Apple tried to give the iPhone 6 Plus a slight edge with true Optical Image Stabilization (its first) and landscape mode with split-screen and other interface options borrowed from the iPads.
In the end, the size of the device is both its biggest strength and weakness. Long-time Apple faithfuls may reject it, but it may bring Android converts. On a less positive note, it may also eat into iPad mini sales.
We call their strategy "safe" but Apple is coming out of its shell bit by bit - the one iPhone a year strategy is no more and this time around Cupertino was adventurous enough to try more than just a plastic reskin of its old device.
This makes the iPhone 6 Plus a bit of a gamble - it's entering a well-established market, meaning it has the advantage of hindsight but also has to battle an entrenched enemy. Here's what we found in our tests.
Key test findings:
Premium build quality but you need to take extra care of it - aluminum dents and bends are not uncommon it seems
Display is bright, with excellent contrast and sunlight legibility
Connectivity options are good but all-purpose NFC would have been nice
Battery life is on the better end of the phablet scale but talk time could have been better
iOS 8 on the iPhone 6 Plus adds some limited split-screen functions but feature-wise iOS 8 trails behind what some manufacturers have been doing with Android (multi-app split-screen, eye tracking, etc.)
Benchmark performance is stellar, among the best we've seen this year
Loudspeaker is below average, and doesn't sound as good as the speaker on the smaller device
Audio quality is excellent, with only a single minor exception
Video player is quite limited in the supported video and audio decoders
The best 8MP/1080p camera yet, but 8MP is the midrange of competing platforms. UHD video will become mainstream before your 2-year contract ends. Mono audio is a big issue, and one that could have been easily corrected by Apple.
The protruding camera is not up to Apple's perfectionism, but practically a non-issue if you use a case.
The hardware execution is great - every bit feels of the same premium quality as the corresponding component in the iPhone 6. We don't think the bending issues will be widespread enough to cause panic, but still the iPhone 6 Plus as a sum of its parts is a rather large device. There are 5.7 to 6-inch droids that fit in the same footprint.
One-hand use is a challenge for them as it is a challenge for the iPhone 6 Plus. Apple capitalized on the screen size with landscape and split-screen features, which will excite iOS owners but these are well-familiar features to Android users. Since all iPhone apps until now were developed for a small screen we guess it will take a while before third-party apps get the same level of polish as Apple's native apps.
Apple likes to ease into new technologies and form factors and so do many of its customers. The iPhone 6 already represents a big enough screen bump over previous generations and has most of the same new tricks as the 6 Plus (sans OIS and some UI features). It's cheaper too, meaning it's easier to get the 64GB version now (a must in our opinion).
Androids have been waiting for a fight with iOS on phablet ground for years now. So many years that we've taken to calling 5.5" devices "phones" rather than "phablets." The culprit responsible for this is the LG G3 - it's nearly a centimeter shorter than the iPhone but has a 5.5" screen with a sizable (if difficult to see) advantage in pixel density.
The LG monster also has optical image stabilization, with a higher resolution still (13MP) and video (2160p) camera to boot. Also, it sees Apple's phase-detection and raises laser-assisted focus. The G3's metal-looking back feels good enough to the touch and keeps the handset lighter, plus you can pop it open to cheaply add more storage or put in a fresh battery.
The Samsung Galaxy Note 4 is also smaller than the iPhone 6 Plus but has a bigger screen, 5.7". It has the same QHD resolution as the LG G3 and comes with the trademark S Pen stylus, which proves helpful in quite a few situations. The fingerprint sensor on the front is open to all apps, while Apple is still holding back on that front.
The Galaxy Note 4 also has phase-detection and OIS functionality on its 16MP/2160p camera, but its sensor has a 16:9 aspect ratio making it fit widescreens (both on mobiles and TVs) like a glove. Samsung has had a split-screen interface running two apps for a few generations now (LG now has its own implementation), making sure you get the most out of that large screen.
An exposed metal frame classes up the Galaxy top dog, even if not quite to aluminum unibody levels.
The Oppo Find 7 is another entry into the 5.5"/QHD market and is more affordable (but harder to find) than its better-known rivals. It has a 13MP camera with no OIS but it does record 2160p, plus there's a 5MP front-facing camera to cater to the selfie craze.
Unlike the other flagships listed here, this one has stereo speakers. The custom Color OS interface that's draped over Android 4.3 takes heavy inspiration from iOS but that's a double-edged sword - good for new users and iOS converts, not so good for veteran Android users.
Huawei execs are quite proud of the Ascend Mate7 fitting a 6" screen in nearly the same footprint as the iPhone 6 Plus. The latest Ascend phablet has bezels that will make even the LG take note and real metal at the back. On it is a fingerprint sensor that works even when the screen is off, making it one of the most hassle-free solutions yet.
Unlike the high-profile Android phablets, the Ascend Mate7 is fairly modest with a 1080p screen and a 13MP/1080p camera. It does have a 5MP/720p selfie camera though and an absolutely massive 4,100mAh battery. It's not in the midrange price bracket as previous Ascend Mates but it's still a good deal cheaper than the iPhone.
Speaking of "cheap," all these Androids have card slots so you don't have to play Apple's game of having to pay the extra 100 for a meaningful built-in storage (we don't think 16GB is enough these days).
Apple has to take some well-deserved criticism for being late to the phablet party and charging a high admission price. That said, the execution of the iPhone 6 Plus is typical Apple - attention to detail and quality, a strong stance on what the user can and can't do (what they do and don't need).
If you were part of Apple's ecosystem and briefly flirted with Android because of the big screen appeal, then Cupertino is welcoming you back. And it's expecting you bring your new Android friends who said they'll never get an iPhone because of screen size or because this or that missing.
The iPhone 6 Plus has the screen, a small but appealing package of upgrades over the previous generation and iOS 8 has narrowed the feature gap that Android managed to open in the last couple of years. The sole remaining excuse to stay away (and it's a big one) is the rather hefty price tag.