Following the curve
Apple iPhone 6 Plus review: Following the curve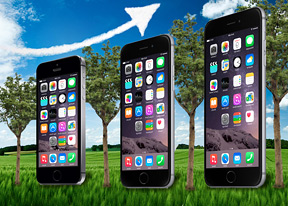 Handoff and continuity
The new Handoff option is probably the most advertised iOS 8 feature. It allows you to start something on one Apple device and continue working on it on another. For example, you can start writing an email on your iPhone, get close to your Mac or iPad and you will be able to continue what you are working on from there. This works between iOS 8 running iPhones, iPods and iPads and Max OS X Yosemite powered Macs.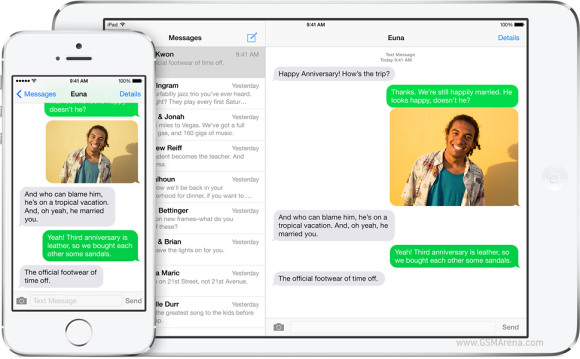 And it goes beyond emails and messages. The continuity feature is available for Safari, Maps, Reminders, Calendars, Contacts, Pages, Numbers and Keynote.
Any Wi-Fi enabled iOS 8-running iPad or a Mac OS X Yosemite is also capable of picking your iOS 8 iPhone calls up. You can answer and make calls on your iPad or Mac via your iPhone thanks to the Handoff feature - the only other requirement besides the OS version is that all devices need to be on the same Wi-Fi network.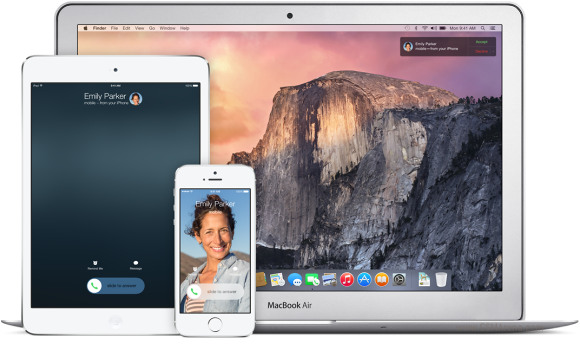 Apple guessed that anyone making calls via Handoff will eventually need to send SMS/MMS/iMessages the same way, so the functionality has been implemented. Just open your Messaging app on your iPad or Mac and you can send whatever message you want thanks to your iPhone connection.
Finally, there is a new Hotspot feature that once enabled will automatically set up a mobile connection for your iPads and Macs. You don't need to do anything! Your iPhone will know when your iPad or Mac stop using the hotspot and will automatically turn it off.
Touch ID and Apple Pay work together
Apple iPhone 6 Plus also features Touch ID - a security service with fingerprint recognition. Just like on the iPhone 5s, the iPhone 6 Plus has its fingerprint scanner on the Home key. It isn't faster, but it seems like the sensor is bigger and recognizes your finger easier.
The Touch ID sensor offers 360-degree readability translating into effortless scanning of your fingerprint. Apple has integrated Touch ID as an added security measure, but it'll still allow you to use your passcode as a backup form of validation. Enabling passcode is also a mandatory requirement in order to use Touch ID.
You can commit up to five fingerprint samples (yours or those of family and friends), which is cool for setting a limited list of people with access to your device. Apple warns that with all five fingerprint slots filled in, the Touch ID sensor operation may take a slight performance hit.
Touch ID can be used for more than just unlocking your phone. Apple has integrated the feature into the digital goods purchasing experience. You can use Touch ID for making authorizations in the App Store, iTunes Store as well as iBooks Store. You can decide which one of them has access to the Touch ID sensor in the Fingerprints settings menu.
As of iOS 8 the Touch ID is available to developers and they can used it for third-party security layers and authorizations. The developers can't gain access to your actual fingerprints, nobody can. They just can use the Touch ID confirmation or denial services.
The Touch ID is also heavily used by the newly introduced Apple Pay service. It is available only on the NFC-enabled iPhone 6 and iPhone 6 Plus. You input your credit card information and then you will pay contactless with your phone. The confirmation is done via the Touch ID. It's very simple but we are yet to see if Apple will manage to attract enough merchants to the idea.
iCloud Drive and Family Sharing
Another upgrade that was well overdue is iCloud Drive. Apple has taken steps to evolve your iCloud Storage to a competitive cloud service to match Dropbox or OneDrive. Besides backing up your entire camera roll, it is instantly synced in the cloud and accessible from anywhere - your other iOS devices, Macs and PCs.
You can store any file on the iCloud Drive, not just pictures and videos, as any other services would allow you to. The Handoff feature relies heavily on the iCloud Drive - this is a document you've opened on your iPhone would be handed over to your iPad or Mac. If you don't use iCloud Drive this file continuity wouldn't be possible.
Naturally you can choose what files and app data gets synced in your iCloud Drive. There is an option to choose cellular data where a Wi-Fi connection isn't available.
Unfortunately, Apple is still only giving 5GB of cloud storage for free and some of it is already used by your iCloud backups. If you want more, you'll have to pay extra.
Another major addition in the new iOS 8 is the Family Share setup and features. It allows up to six users to make iTunes, iBooks, and App Store purchases with a single credit card. Family photos, calendar entries and locations can also be shared.
The credit card owner and group admin may opt to authorize each purchase requested by other members in the group - i.e. your kids. Thus you have full control over the purchased content - same goes for sharing requests.
If Family Sharing enabled on a range of devices, you will be able to find each one of them on a map - handy if you want to know where your kids (or spouse) are at any time.