Apple iOS 9.3 comes pre-installed
Apple iPhone SE runs on the iOS 9.3 out of the box, though there is already a 9.3.1 bug-squashing firmware update. The new phone lacks 3D Touch hardware, so some of the major features are missing from the OS. We can't say we wish things were different as ten months later the 3D Touch gestures are still nothing more than a gimmick without any real value to the user.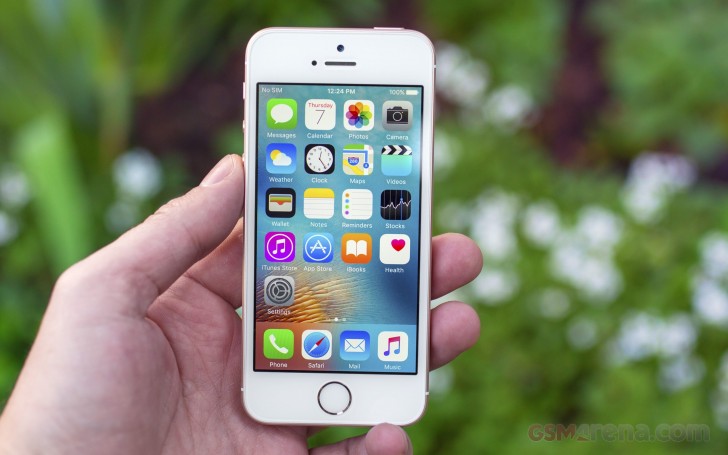 The latest Apple iOS 9.3 brings the new Night Shift mode and an enhanced Notes app while it was iOS 9 that introduced the new News app, and public transit support for Maps. Mail and Messages got a refresh, and there's a new system font. Meanwhile, Siri got smarter while Spotlight Search expanded its reach.
As usual, all of your apps are on the homescreen; you can group them in folders and there is the familiar dock that can take up to four shortcuts. The system icons, the color scheme and the transparency - everything is as we left it in iOS 8.
The lockscreen hasn't changed much either - it has a camera shortcut and shows all of your notifications. While the iPhone SE shots Live Photos, it can't use them for Live wallpapers as there is no 3D Touch.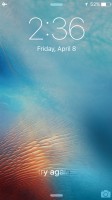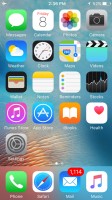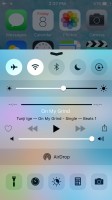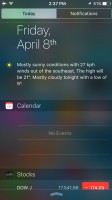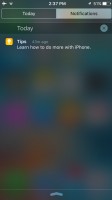 The lockscreen • The homescreen • Control Center • Notification Center • Notification Center
The Control Center that's pulled up from the bottom of the screen keeps the same layout of toggles, shortcuts and media controls. The Notification Center drops from the top and features the same Today and Notification tabs. There are no new widgets or notification options. If you want to fill the Notification Center with widgets, you just need to install apps that offer widgets.
The task-switcher interface loses its webOS flat cards look and opts for a cooler 3D carousel. Unfortunately, you are still able to only see just three apps, and it takes even more scrolling so we're not quite happy with this change.
The Spotlight search has been improved in iOS 9. You can invoke it by a downwards swipe from anywhere on the homescreen, or go to the leftmost pane. It has been updated and can now do simple calculations and conversions. It also supports finding sport scores and weather forecast information. And finally, you get shortcuts for making a call or sending a message to any of the contact results in the Spotlight searches.
Siri got smarter, too. In addition to all the cool stuff the intelligent assistant could do before, it can now search through your photos and videos based on dates, locations and the album names. It supports custom reminders from things you've been searching for in Safari, Mail, Notes and Messages and it got support for public transit navigation too.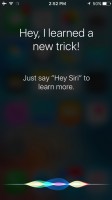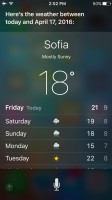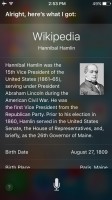 Siri can be summoned anytime by saying 'Hey, Siri'
The iOS 9 has this new pro-active assistance available system-wide, which is more or less Apple's take on Google Now - it provides relevant information to you in advance - before you start typing something or before you leave for some place (work, home).
The DND mode has been available on the iOS for quite some time, but now there is a new feature courtesy of iOS 9.3 called Night Shift. It changes the display temperature at night for less eye strain, and you can configure how warm you want it to be. It works as advertised and we found it very helpful at night.