Performance
The iPhone SE may come with dated looks, but its hardware is up to date. It is powered by the latest Apple A9 chipset, which packs a dual-core 1.84 GHz Twister processor, PowerVR GT7600 six-core graphics, and 2GB RAM. And we believe the A9, coupled with the lower (than iPhone 6) resolution screen would be a monster.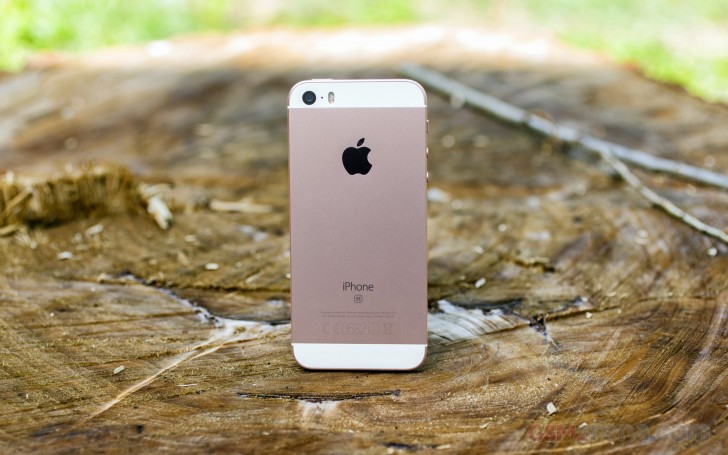 Apple has always been focused on the single-core performance since it is the most important one when it comes to interacting with the iOS user interface and the single-core GeekBench test proves the 64-bit Twister core is still the best and fastest CPU core currently on the market.
GeekBench 3 (single-core)
Higher is better
Apple iPhone SE
2562
Apple iPhone 6s
2542
Xiaomi Mi 5
2305
Samsung Galaxy S7
2170
Apple iPhone 6
1594
Huawei Nexus 6P
1363
Xiaomi Mi 4s
1254
The multi-core score of GeekBench 3 shows how powerful the dual-core Twister processor is. It beats the Snapdragon 810 chips, and does a lot better than the A8 SoC in the iPhone 6. It trails behind the 8-core Exynos models from 2015 (Galaxy S6) and 2016 (Galaxy S7), but not by a large margin, which is impressive given those are just two cores.
GeekBench 3 (multi-core)
Higher is better
Samsung Galaxy S7
6360
Xiaomi Mi 5
5358
Samsung Galaxy S6
5215
Apple iPhone SE
4469
Apple iPhone 6s
4427
Sony Xperia Z5 Compact
3796
Xiaomi Mi 4s
3147
Apple iPhone 6
2835
Apple iPhone 5s (iOS 8)
2552
OnePlus X
2297
Apple iPhone 5
1296
Apple iPhone 5c
1280
The compound AnTuTu 6 benchmark puts the iPhone SE on par with the iPhone 6s, and very close to the Xiaomi Mi 5 and Galaxy S7 top dogs.
AnTuTu 6
Higher is better
Samsung Galaxy S7
132084
Xiaomi Mi 5
131758
Apple iPhone 6s
129990
Apple iPhone SE
123961
Huawei Nexus 6P
89345
Samsung Galaxy S6
79038
Xiaomi Mi 4s
59850
The compound BaseMark OS II 2.0 test gauges CPU, GPU, Memory, Web and System performance. In this test the iPhone SE is once again on par with the iPhone 6s, Galaxy S7, and the latest Xiaomi Mi 5 (Snapdragon 820 chip).
Basemark OS 2.0
Higher is better
Apple iPhone 6s
2195
Xiaomi Mi 5
2180
Apple iPhone SE
2163
Samsung Galaxy S7
2128
Huawei Nexus 6P
2040
Samsung Galaxy S6
1674
Xiaomi Mi 4s
1545
Sony Xperia Z5 Compact
1440
Apple iPhone 6
1429
OnePlus X
1213
Next - graphics performance. The iPhone SE utilizes the six-core PowerVR GT7600 GPU, which is quite the beast. The 1080p off-screen benchmarks speak for themselves. It is as powerful as the Mali-T880MP12 GPU inside the Galaxy S7, but is bested by the Adreno 530 (S820) within the Xiaomi Mi 5.
GFX 3.0 Manhattan (1080p offscreen)
Higher is better
Xiaomi Mi 5
45
Apple iPhone SE
39.6
Apple iPhone 6s
39.5
Samsung Galaxy S7
38
Sony Xperia Z5 Compact
25
Huawei Nexus 6P
25
Samsung Galaxy S6
24
Xiaomi Mi 4s
13
Apple iPhone 5s (iOS 8)
12.9
OnePlus X
9.9
GFX 3.1 Manhattan (1080p offscreen)
Higher is better
Xiaomi Mi 5
30
Samsung Galaxy S7
28
Apple iPhone SE
26.8
Sony Xperia Z5 Compact
18
Huawei Nexus 6P
17
Xiaomi Mi 4s
8.1
The iPhone SE has a sub-1080p display resolution, which makes a massive difference in comparison with the 1080p and Quad HD phones in the performance chart, and shows top-notch gaming performance (if you are into the 4" display gaming).
GFX 3.0 Manhattan (onscreen)
Higher is better
Apple iPhone SE
59.2
Apple iPhone 6s
53.6
Xiaomi Mi 5
43
Sony Xperia Z5 Compact
39
Samsung Galaxy S7
27
Apple iPhone 5s (iOS 8)
24.3
Huawei Nexus 6P
17
Samsung Galaxy S6
14
Xiaomi Mi 4s
12
OnePlus X
10
GFX 3.1 Manhattan (onscreen)
Higher is better
Apple iPhone SE
58
Sony Xperia Z5 Compact
38
Xiaomi Mi 5
29
Samsung Galaxy S7
15
Huawei Nexus 6P
11
Xiaomi Mi 4s
7.9
Finally, Android has OpenGL ES 3.1 as latest generation graphics, while iOS 9 has Metal. Both allow games to make full use of the built-in GPUs and BaseMark has launched the BaseMark ES3.1 / Metal apps so we can compare the performance cross-platform. Combined with the lower resolution of the iPhone SE, the Metal test really produces outstanding results.
Basemark ES 3.1 / Metal
Higher is better
Apple iPhone SE
882
Apple iPhone 6s
879
Samsung Galaxy S7
732
Xiaomi Mi 5
580
Huawei Nexus 6P
504
Apple iPhone 6
370
Samsung Galaxy S6
311
Xiaomi Mi 4s
219
We knew the Apple A9 is a beast since we first saw it running on the iPhone 6s. There is no surprise it's a flagship-grade chipset and it delivers on all fronts. Apple's choice of designing its own processor pays out every year and makes sure iOS users never have to worry about lackluster performance. The Apple A9 has the power to handle everything you can get on your phone today and is future-proof for years to come with some huge power reserves under the hood.