Display
The iPhone X is the first iPhone to sport an AMOLED display and it looks gorgeous. The high max brightness and the low reflectivity means none of us has an issue reading what's on screen regardless of the ambient light.
Not to mention that color accuracy is amazing - right up there with the best of them.
And we're happy to say that here there are no signs of the screen issues, which have been plaguing the Google Pixel 2 XL. We didn't notice any image 'retention' or 'burn-in.'
The nature of the beast does mean though that you see some shift in color and hue when viewing the screen off angle but it's nothing as bad as the Pixel 2 XL.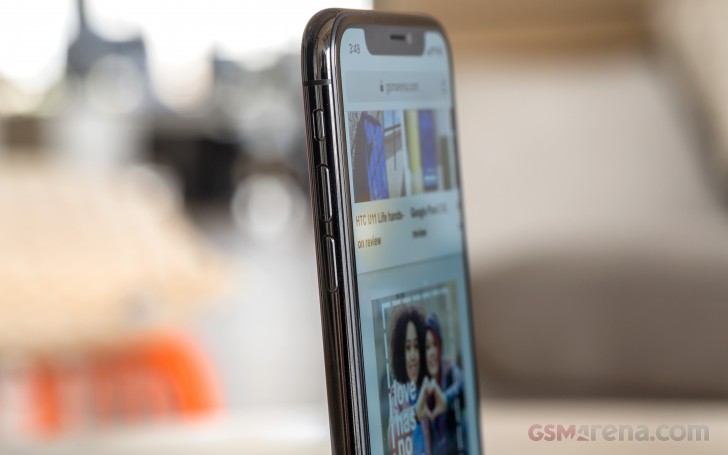 One thing you might not expect based on the screen specs is that thanks to the unusual aspect ratio, the curved edges, and the notch above the screen - there is less screen real estate than you might expect. The iPhone X, in fact, falls in between the iPhone 8 and iPhone 8 Plus in this regard.
When used in Portrait mode the extra height afforded by the display is welcome with Apple adapting iOS accordingly to utilize the taller screen. We're still being caught out though by Apple's default keyboard. It has been moved up to avoid the Home indicator but they've left the Emoji/Keyboard selector key behind which results in many miss-typed messages.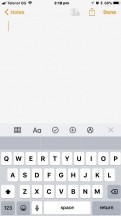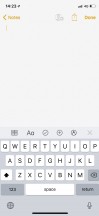 iPhone 8 Plus keyboard layout • iPhone X keyboard layout
The majority of the apps we use have now been updated to cater for the iPhone X display, but when we come across one that hasn't, it looks odd as the screen is padded with black bars. These are proving to be the exception as opposed to the rule though so we wouldn't count this against it.