Low light
The untimely late-March snowfall has forced us indoors, where storefronts provide some light, but not really an abundance of it. In these conditions, the Galaxy tends to pick faster shutter speeds than the iPhone and compensates with a higher ISO (plus it's got the upper hand with its f/1.5 aperture). And then, even at some 1.7 stops higher ISO, the S9+'s shots are cleaner with crisper detail. Impressive stuff. And colors - well, let's just say we're sold on the Galaxy's cherry tomatoes.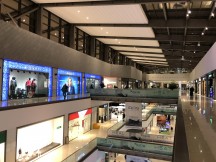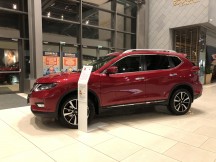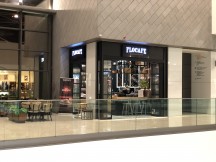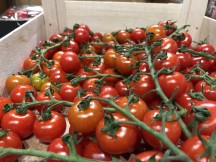 Lowlight camera samples, iPhone X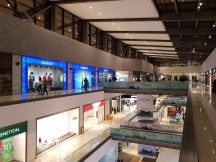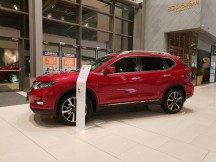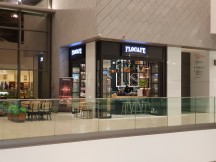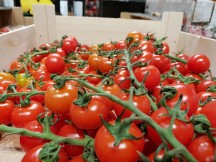 Lowlight camera samples, Galaxy S9+
At night, the Galaxy S9+ remains ahead in this race. It holds on to its colors, while the iPhone's already muted output loses even more saturation. The S9+'s photos are sharper with better definition and less noise - again, despite consistently higher ISOs. The Samsung phone also picks faster shutter speeds in the process reducing the risk of handshake and subject motion blur.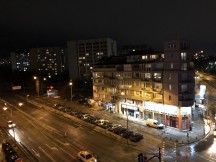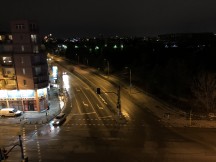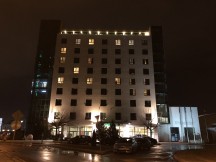 Lowlight camera samples, iPhone X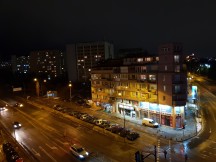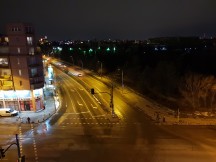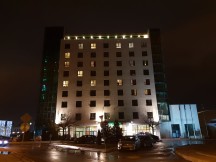 Lowlight camera samples, Galaxy S9+
When it comes to using the telephoto cameras at night, you should keep in mind that under a certain light threshold both phones will, in fact, engage the main cam, crop the center portion to match the tele's FOV, and upscale back to 12MP - the 2x zoom is effectively digital. As you can imagine, per-pixel detail will inevitably suffer.
There is no way of forcing either phone to use its real tele camera in this situation.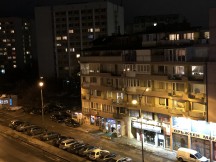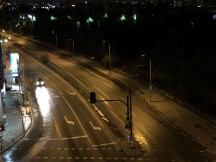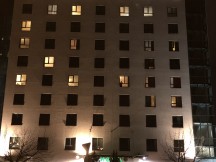 Lowlight camera samples, 'telephoto', iPhone X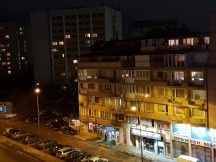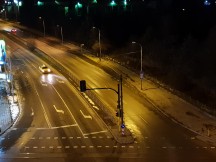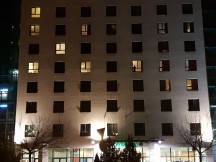 Lowlight camera samples, 'telephoto', Galaxy S9+
Portraits
While night shots may not be the smartphone telephoto cam's forte, at least at the current state of affairs, one comes in mighty handy for portraits with artificially blurred backgrounds. Both the iPhone X and the Galaxy S9+ can do it, though Apple calls it plainly 'Portrait' while Samsung goes for a fancier 'Live focus'.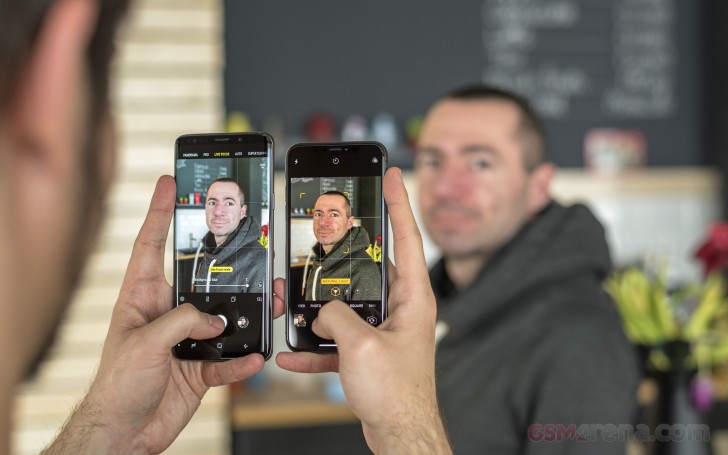 Both do a reasonably good job of mimicking a wide-aperture portrait lens, though the algorithms on neither are foolproof. The iPhone generally draws an oval just inside the contour of the subject's face and keeps its contents sharp while blurring the rest - that's a rough approximation, obviously. That way you don't end up with a weird outline at the border between hair and background like it tends to happen on the Galaxy with messier hairstyles (if the author's mess of a hair even counts as hairstyle). On the other hand, it also means that hair which should otherwise be in the plain of focus ends up blurry in the iPhone's portraits. Naturally, less complex hairlines will work much better.
The iPhone does tend to render faces in a distinctly warmer, more reddish fashion - we're willing to concede a lot of folks will prefer it that way. The Galaxy S9+, meanwhile, is staying truer to life, a slight pinkish cast replacing the stronger yellow one you'd get from a Note8.
The Galaxy S9+ handles complex, non-human shapes more proficiently than the iPhone X as our aloe plant torture test can prove. Both phones will, however, isolate objects from backgrounds quite well, as long as you don't deliberately try to fool them.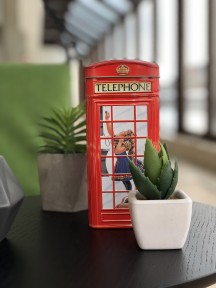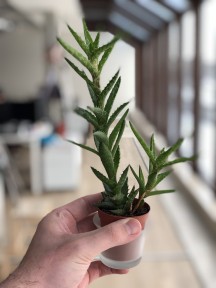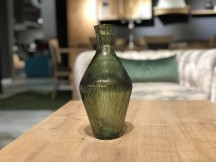 Non-human portrait samples, iPhone X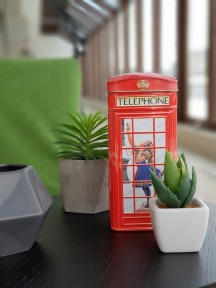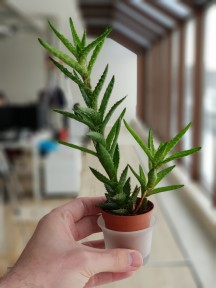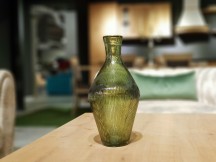 Non-human portrait samples, Galaxy S9+
Selfies
The iPhone X exhibits a pronounced tendency to crank up contrast in selfies, which makes for some weird looking near-black irises and overly dark facial hair and wrinkles (when you have either). The Galaxy's colors are truer and have a softer skin representation which we like better.
The iPhone's 32mm equivalent focal length is rather limiting - you can't fit all that much in the frame at arm's length, and group selfies are best done with a selfie stick. The S9+'s much wider 25mm equivalent lens is a lot better suited to stickless groufies or whatever kids like to call them these days.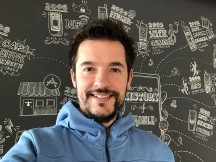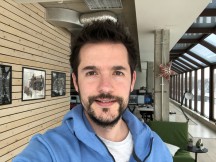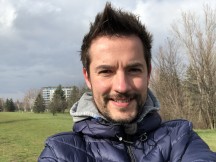 Selfie camera samples, iPhone X
What the Galaxy fails at, and we've seen that a lot since this 8MP shooter debuted on the S8, is not quite so sharp focus. You'd expect an autofocusing front-facing cam to deliver tack-sharp mug shots regardless of subject distance (it's not a huge range, really), but it's probably more miss than hit this one. Oh, well - take multiple shots and hope for the best.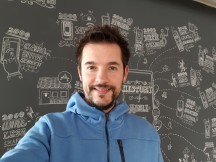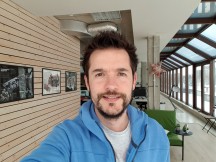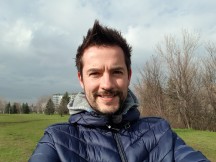 Selfie camera samples, Galaxy S9+
What sets the iPhone X apart from its 8-series iPhone siblings is the portrait mode on the selfie cam. It uses the depth mapping camera from FaceID to determine what's subject and what's background. The S9+ has no such thing, but it can do portraits equally well, though the mode here is called 'Selfie focus' instead of 'Live focus' - just Samsung things.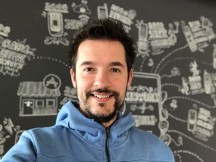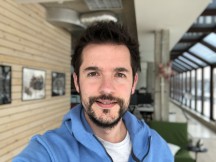 Portrait selfie samples, iPhone X