Camera comparison
Apple iPhone XS Max vs. Samsung Galaxy Note9
Final words
We're not seriously thinking a lot of people on either side are contemplating a cross-platform switch to the Galaxy Note9 or the iPhone XS Max on grounds of camera performance alone. Yes, there are such specimens around these offices here, but we gather most folks are a lot more reasonable in their smartphone purchasing decisions. In any case, a head-to-head of the two latest from the two greatest was warranted.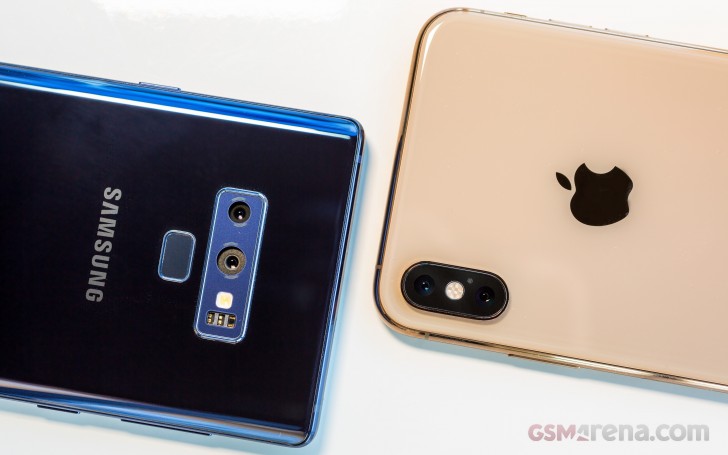 For starters, the two archrivals have never been closer in their hardware choices. Apple's primary camera this year has more or less been Samsung's primary camera since the Galaxy S7. Meanwhile, Samsung waited a couple of years to present its answer to what Apple introduced with iPhone 7 Plus - a telephoto camera, and that answer came with S9+'s telephoto camera. Which is how we've arrived at a point where the iPhone XS Max and Galaxy Note9's camera spec sheets need the selfie shooters to set them apart.
The phones are very much alike in the way they use their similar internals. Unsurprisingly, both consistently produce great photos and videos with comparable detail, minimal noise, and reliably good exposure, and they are quick and precise in their focusing.
One of the few notable differences comes down to personal preference - the color science. Some will prefer the Note's livelier output, while others will appreciate the iPhone's more restrained approach, and there's a case to be made that no one should like Samsung's cyan skies, yet plenty of people do.
A more objective advantage that goes in the iPhone's favor is dynamic range. Both phones employ image stacking of some sort and have HDR processing (Samsung calls it simply Auto or 'rich tone', Apple's is 'Smart'), but the way it's tuned on the XS will give you better-preserved highlights, every time.
We also found the iPhone's telephoto camera to be that extra bit better than the Note's in stills - to a definitely not game-changing extent. On the other hand, it proved significantly superior in the top 4K60 video mode, so if for some reason you specifically need zoomed-in 4K60 capture, the XS Max is an easy pick.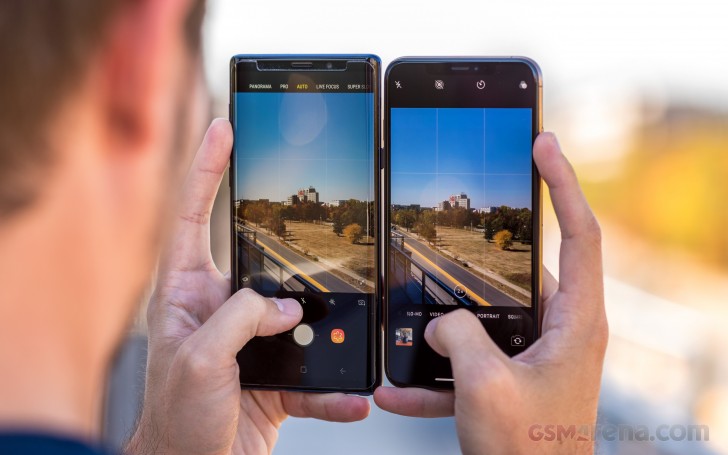 For all of the Note9's hardware advantages in the selfie cam department, we didn't find it to be meaningfully better than the iPhone in any way but one - coverage. The iPhone's longer lens severely limits what you can fit in the frame, an issue made worse still in video where the stabilization takes away even more of the periphery. Then again, the longer focal length is a bit more flattering to facial proportions. Oh, well.
So to wrap this up, both phones are predictably great all-around camera phones. Each takes a few narrow wins, neither is worth abandoning an ecosystem you're familiar with and invested in. Not just because of the camera, that is.
Pricing

These are the best offers from our affiliate partners. We may get a commission from qualifying sales.

128GB 6GB RAM
$ 275.00
$ 329.95
512GB 8GB RAM
$ 676.22
C$ 993.76
Show all prices