comScore have published the latest figures regarding smartphone subscriber market share in the US over a period of three months ending in June 2013.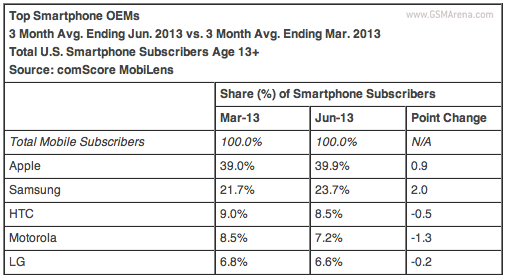 According to these figures, Apple is the leading smartphone OEM with a 39.9% share of the market. In second place is Samsung with 23.7% and then comes HTC with 8.5%. Apple experienced a growth of 0.9% from March 2013 whereas Samsung saw 2% growth over the same period. HTC, meanwhile, had its share drop by 0.5%.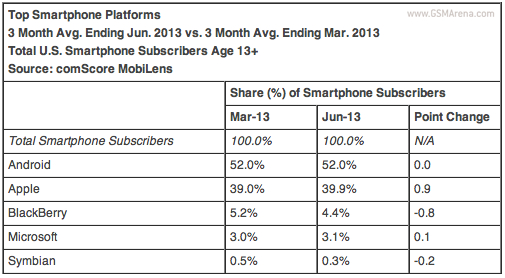 That was for the hardware. In terms of software, Android is at the top with 52% of the market. iOS is at second place with 39.9% and BlackBerry a distant third at 4.4%. Android saw no growth since March whereas iOS gained by 0.9%. BlackBerry dropped by 0.8%.
The US market currently has 149 million smartphone users with 59% mobile market penetration.
?
Android works just fine too. It just gives you more options. The whole it just works with IOS was never true. It's exaggerated fanboy crap. People like to pretend IOS does not have issues and inconsistencies while android's issues are heavily exagger...
?
When someone replies so pathetically, rudely, and negating they do not deserve nor require a well thought out reply. Know what you are going into before jumping into something and inserting your foot. My comment pointed out the foolishness and n...
?
No as stated a trolling negating and twisting comment such as that does not deserve nor require a well thought out response.