Apple is the most valuable brand, Google jumps over Samsung for second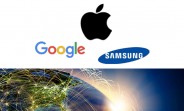 Brand value is an intangible but important asset - it shows marketing strength and loyalty among consumers. Apple holds down the top spot for many years running and its meteoric growth shows no signs of slowing down.
Google - or rather Alphabet, the re-organized company - finally overcame Samsung and claimed the second spot (the Big G had been behind Samsung since 2012).
This pushed Samsung to third, the technology giant showing only modest growth. The South Korean company is at just over 50% of the brand valuation of Apple.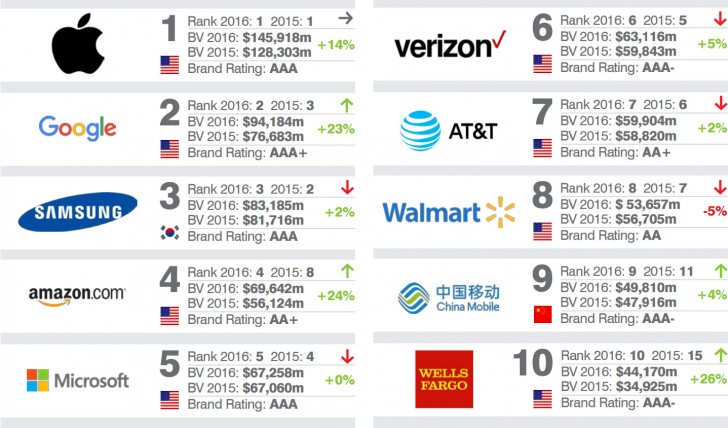 Besides Google, Amazon was the big winner. It grew a whopping 24% and leapfrogged the likes of Microsoft and US carriers Verizon and AT&T. The Fire phone may have flopped, but Prime is going strong and Amazon's original video content has been well-received.
Another carrier made the Top 10 - China Mobile, now in 9th, even though just a few years ago Chinese companies were largely unknown in the West.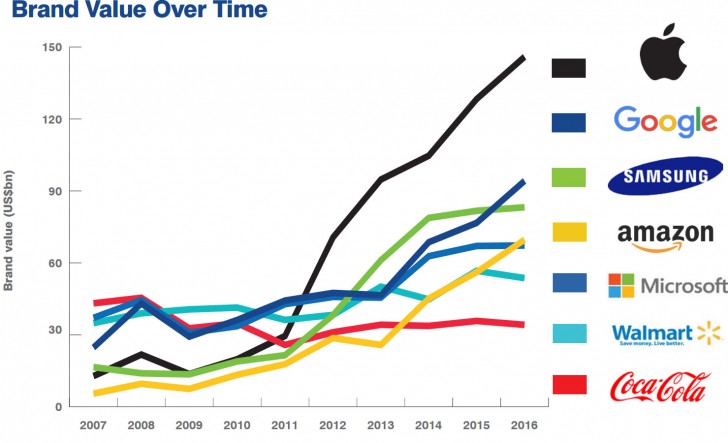 Social network Facebook keeps growing and fast - 500% since 2013 - and is now the 18th most valuable brand in the world.
Source (PDF)
D
When you get so emotional, it must be affecting your life some how.
D
*yawn* sure like it affects my life or some shit right
D
I never said they make good or bad quality devices, I don't really want to comment on that, all I am saying is that Brand Values can't really tell us whether they make good/bad quality devices, that's it.
ADVERTISEMENTS