Apple caused some controversy last week when it finally unveiled the new MacBook Pro models. None of the three laptops have any other ports aside from Thunderbolt 3 infused USB Type-C connectors and the 3.5mm headset jack. No SD card slot, no HDMI out, nothing like that.
While USB Type-C may take over the world in the future, at this point in time you probably need a dongle or two, or three, to actually get some work done on your brand-spankin-new MacBook Pro. Sure, there are many of those around the internet, but what if you want to buy direct from Apple and not have any quality concerns?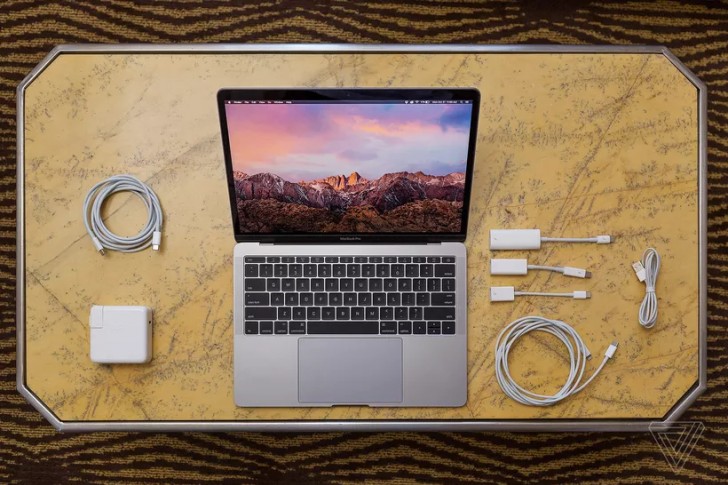 Well, good news then. The company is responding to the port-related backlash for its new MacBook Pros by cutting the prices of the USB Type-C adapters it sells before the end of the year. Here's the full statement from the company on the matter:
We recognize that many users, especially pros, rely on legacy connectors to get work done today and they face a transition. We want to help them move to the latest technology and peripherals, as well as accelerate the growth of this new ecosystem. Through the end of the year, we are reducing prices on all USB-C and Thunderbolt 3 peripherals we sell, as well as the prices on Apple's USB-C adapters and cables.
If you're wondering how big those price cuts actually are, here are some examples. The USB Type-C to USB Type-A adapter is down to $9 from $19, the Thunderbolt 3 to Thunderbolt 2 adapter is $29 (was $49), the 1m USB Type-C to Lightning cable is $19 (from $25), the same cable but with 2m length now goes for $29 (from $35), and the multiport adapters are selling for $49 instead of $69. Apple is also discounting the third-party USB Type-C peripherals it sells. Take the SanDisk USB Type-C SD card reader - this is now priced at $29, down from $49. All of these things will be available for the new prices both online and in physical Apple stores.
a
The name should have given way...
D
or you can buy and adapter made in china for lik 0.5 dollars
a
typical scenario when you're trapped inside apple ecosystem