Apple mentions AirPower charging mat in iPhone manual, should someone tell them?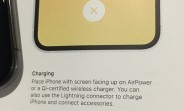 Remember the unified AirPower wireless charger for your iPhone, Apple Watch and AirPods that was supposed to be released this year? That's clearly not happening since Apple has completely removed it from its website, but apparently it didn't manage to get rid of all traces.
The iPhone XS Max manual contains instructions on how to use the AirPower Qi-certified charger. The only problem is that you can't really buy it.
But they definitely mention it in the new iPhone XS Max manual pic.twitter.com/qJO7kVc8bi

— Gavin Stephens (@ccgavind) September 20, 2018
So was it a case of Apple dropping the AirPower at the last moment and there was no time to fix the manuals? Or are we in for a surprise (very late) appearance by the wireless charger? Time will tell, we guess.
?
Samsung didn't wait months, they were recalled for the second time in mid september, given they launched in august...
Well apple is half year ahead of everybody making this day the 1.4. day of all crazy mobs.