Apple has dropped the price for Apple Music in India. The service now starts at INR 99 (~$1.5) for an individual for a month (down from INR 119) or INR 999 for a year (down from INR 1199). If you are a student with select universities then you can get it for INR 49 per month and for families (5 users) the price is INR 149 per month.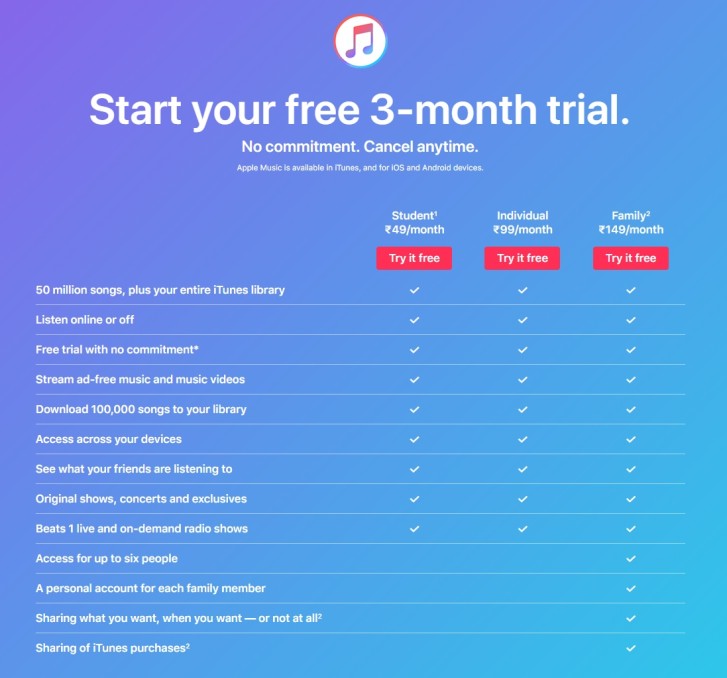 The price drop comes less than a month after Spotify opened shop in India. While Spotify is still lacking some crucial labels in India (such as Warner Music), the hype around its launch in India so much that it shot up to a million registered users in the first week of launch.
However, with the price cut, Apple Music is now cheaper than Spotify, which starts at INR 119 (~$1.7) in India (although Spotify does offer weekly and even daily prepaid plans). This makes it the most expensive music streaming service in India.
Apple's decision to drop the price could have also been dictated by the launch of YouTube Music in India, which too launched last month at INR 99 per month and also includes Google Play Music.
Amazon also started its Prime Music service in India last year and has bundled it as part of its larger Prime service, which also includes Prime Video, Prime Reading and the free next day delivery service for INR 999 (~$14.5) per year.
However, in terms of pure bang for the buck, local services such as Saavn and Gaana, who charge INR 99 for a monthly plan but a mere INR 999 for a yearly plan.
While Apple's new pricing should make it more appealing, most of its competitors including Spotify, YouTube Music, Saavn and Gaana offer the option to listen for free at reduced quality and with ads, an option Apple does not offer in any market. Considering this is the route most people choose to take, Apple Music likely won't be making headway in the Indian market any time soon.
?
Except if you already own an iPhone , its better to go with Apple Music
D
Antitrust. Apple in a nutshell. Charge Spotify 30% of their earnings and use that to undercut, to a price any competition would lose money matching. Apple will be cut up by antitrust laws.
?
no you need credit card - i use apple music - its good so far. have not used spotify though