Apple has just launched the iOS 7.0.3 update for all supported iDevices. The release is rather rich in bug fixes but it also brings a few new features.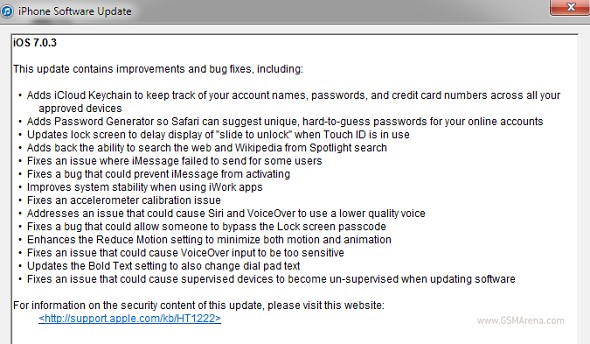 As for the bugfixes, the most important ones include fixing some iMessage activation problems, and also resolving the notorious accelerometer issue and putting to sleep the recently discovered ways to bypass the Lock screen passcode (a previous bug of this kind was fixed with iOS 7.0.2, too).
Here is the full changelog, in case that image up there is hard to read.
iOS 7.0.3 changelog
Adds iCloud Keychain to keep track of your account names, passwords, and credit card numbers across all your approved devices
Adds Password Generator so Safari can suggest unique, hard-to-guess passwords for your online accounts
Updates lock screen to delay display of "slide to unlock" when Touch ID is in use
Adds back the ability to search the web and Wikipedia from Spotlight search
Fixes an issue where iMessage failed to send for some users
Fixes a bug that could prevent iMessage from activating
Improves system stability when using iWork apps
Fixes an accelerometer calibration issue
Addresses an issue that could cause Siri and VoiceOver to use a lower quality voice
Fixes a bug that could allow someone to bypass the Lock screen passcode
Enhances the Reduce Motion setting to minimize both motion and animation
Fixes an issue that could cause VoiceOver input to be too sensitive
Updates the Bold Text setting to also change dial pad text
Fixes an issue that could cause supervised devices to become un-supervised when updating software
Have you got your update installed already? Did it fix a nagging issue for you? Let us know in the comments below.
E
Same it's just sooo annoying lol
D
hello i bough 5s yesterday but saw my phone not updated yet. my question is my ios was 7.0.2 and i exceed the update of 7.0.3 if i download 7.0.4, the 7.0.3 update was including on 7.0.4? because i want to include the 7.0.3 update before plss reply i...
?
How is possible Apple can not adjust and adapt the operating system. After all, iOS has unacceptable bugs and has no customization and modification of widgets. Wi-Fi still don't work. People think to switch to Android. Unlike iOS, which is the de...