Apple Pay, the company's latest advancement in wireless, one touch transactions is quickly gaining popularity, mostly thanks to Apple's devoted push towards gaining substantial third-party support in the US.
The last week saw three new banking institutions join the list of partners - L&N Federal Credit Union, UW Credit Union and M&T Bank. Now the addition of Fremont Bank and the National Institutes of Health Federal Credit Union bring the total number of issuing banks up to 23.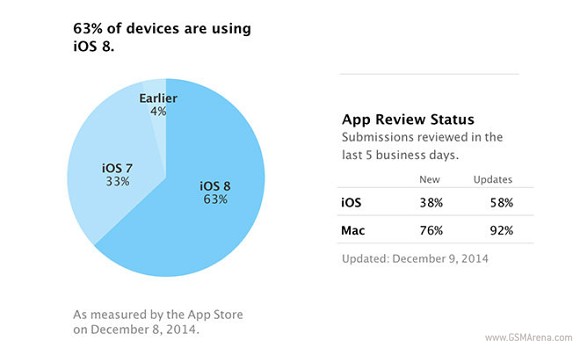 This definitely represents a significant coverage of the payment sector on Apple's part, even for the United States and it comes as no surprise that the new convenient payment service is boosting the popularity of iOS 8.1, which brings support for Apple Pay.
iOS 8, according to official App Store statistics, now powers 63% of the Apple OS devices, a raise from 60% at the end of November. This might not seem as much, but it is a definite improvement over the slow adoption of the new version during October, with only 1% rise over a period of two weeks.
Apple Pay is predominantly designed for the latest generation of iDevices, like the iPhone 6 and iPhone 6 Plus, which can conduct secure wireless payments with the help of NFC and Touch ID.
However the new service does also hold a certain appeal to older Apple hardware owners as it enables easier one-click in-app purchases, which by itself should be enough to encourage updating the OS.
B
Because the same people who invest in tech companies like Apple, the Buffets and Watsas of the world, probably also own chunks of big banks. It's their world, you just live in it.
S
So why are big companies just now paying attention to apple pay when google wallet was out years ago???! security issues with android? or what?
D
Apple pay feature is only for america so it's useless anyway. Rest of the world don't care about this kind of news