Five years after its debut, Apple Pay is the leading US mobile payment platform for in-store purchases. A new report from eMarketer claims that Apple Pay has been the most used platform for mobile payments in the past year, surpassing the Starbucks mobile app which was (oddly) the US leader until recently.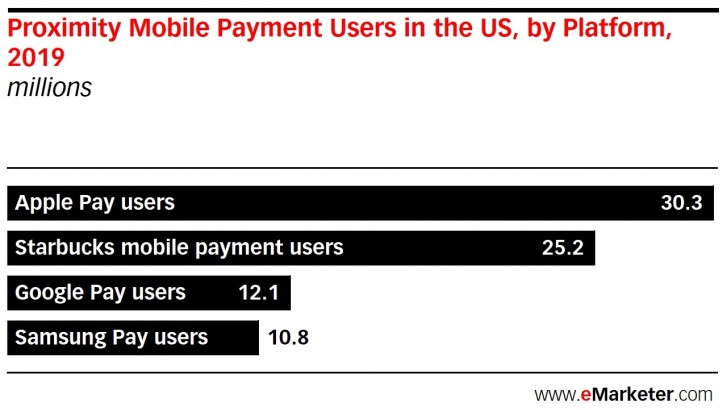 Apple Pay now has an estimated 30.3 million users followed by Starbucks with 25.2 million. It's also far ahead of competing services like Google Pay (12.1 million) and Samsung Pay (10.8 million). Apple Pay has been accepted very well by stores across the US and is estimated to be present in nearly 70% of all retailers by 2020.
Apple Pay has benefited from the spread of new point-of-sale (POS) systems that work with the NFC signals Apple Pay runs on. The same trend should also help Google Pay and Samsung Pay, but they will continue to split the Android market. - Yory Wurmser (eMarketer)
Looking ahead eMarketer predicts that around 30% of US smartphone owners will use a mobile payment app in the coming year. Apple Pay's expansion outside the US is also going strong as it's currently available in more than 40 countries which should further assert Apple's dominance on the mobile payment stage.
S
A lot of places I go to has no apple pay. Samsung works on each and every model. I think the problem is Samsung users aren't using theirs the whole time
?
Most Samsung users are as clueless as iPhone users. The difference is iPhone basically demands you set up ApplePay - it does so on initial setup, and if you skip it, it'll keep on asking, and ask again after any OS upgrade. Samsung, on the othe...
L
I'm not an Apple user, so I don't know, but is an iPhone allowed to have another payment app besides Apple Pay? Because if they're locked into only one service, that makes it easier to take the lead. I have three options on my Samsung and I prefer Sa...
ADVERTISEMENTS