Apple has announced the financial results for the first quarter of the 2013 fiscal year (which ended in December 29, 2012) with some record breaking numbers.
The following table shows the results of the first quarter, compared to results from the previous quarter and the same quarter last year.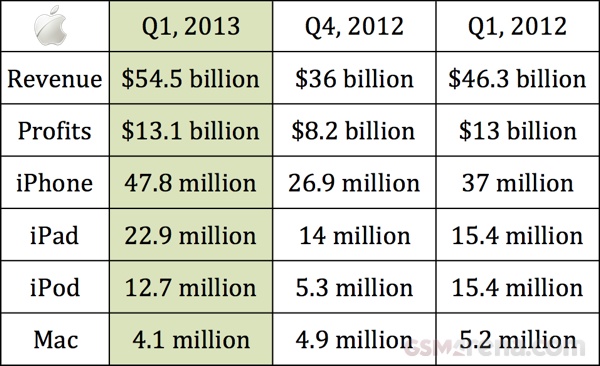 As you can see, the both the revenue and the profits have gone up considerably over the last quarter. The sales of the iPhone, in particular, have seen a massive increase, especially over the previous quarter, no doubt thanks to the introduction of the iPhone 5.
The iPad sales saw a similar increase, again likely helped by the new iPad mini and the refreshed iPad with Retina display. There was no breakdown of the iPad sales according to the different models (similar to the iPhone and iPod sales) but it's safe to assume the iPad mini got the lion's share.
The only numbers that were down this quarter were for the iPod and the Mac. The iPod sales were considerably higher compared to last quarter thanks to the new iPods and the holiday season but were down from the same period last year. The Mac sales have seen a considerable decline, which Apple believes was due to the delays in the production of the new iMac.
But even though numbers sound impressive enough, they failed to meet analysts' expectations, which pointed to 50 million iPhones sold, causing Apple's stock to drop by 10% in the after-hours trading.
D
Yeah, the media is very good at making people believe certain things. But not me. I like to dig deeper and look at the facts. B/c we all know that the media usually only report what they please.
R
Well its a report published on msn and thats what astounds me that how the media influences people to believe in anything they print. where is the transperacy my friend. its more like advertising bullshit to the consumers thay sell the products to an...
ADVERTISEMENTS