Apple has submitted 13 new accessibility emoji to the Unicode Consortium. These emoji try to cover a range of disabilities to better represent the disabled, something the current set of emoji does not.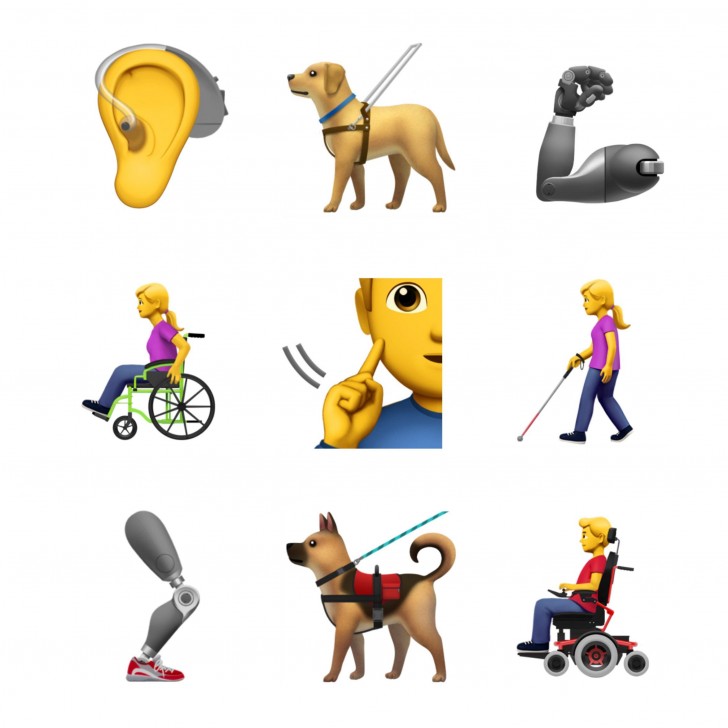 Illustrated by Emojipedia based on Apple's current designs
Among the list of additions are things like Guide Dog with Harness, Person with White Cane, Ear with Hearing Aid, Deaf Sign, Person in Mechanized Wheelchair, Person in Manual Wheelchair, Mechanical or Prosthetic Arm and Leg, and Service Dog with Vest and Leash. The emoji with people in them will be available in male and female as well as in all the racial color options, as with existing emoji set.
Apple is requesting the addition of emoji to better represent individuals with disabilities. Currently, emoji provide a wide range of options, but may not represent the experiences of those with disabilities.
These are currently just a proposal and will have to be approved by the Unicode Technical Committee for them to be added to the Unicode set. After that they can start rolling out to software platforms, which means we could be a year or two away from actually seeing these on phones and websites.
D
Fact is they released these emojis after he passed out. Probably since they knew he would be offended by that.
D
The thing that makes me more angry about this is that they think they can summarize a disability like these just with a small picture. No, a small icon cannot tell the world of sufferings and misunderstanding these people get. -Hello. -Hello....
S
Yes it is truly offensive. By chance, how do you send these emojis to our friends with disabilities without insulting their current state? Surely, kids will use this feature as a meme or an insult to their peers. What a stupid move by Apple and shoul...
ADVERTISEMENTS