Apple refreshes MacBook Air with quad-core CPUs, scissor keyboard and lower price
We love it when things get both cheaper and better - and the new Apple MacBook Air did just that. This is the first generation of Air to offer quad-core processors, the base model gets more storage, costs less and the dreaded butterfly keyboard is gone.
Apple's ultrabook now starts at $1,000, $200 down from the 2018 model. That buys you 10th generation Intel Core i3 (dual-core) with 1.1GHz base frequency and 3.2GHz Turbo Boost. And you get double the storage, the SSDs now start at 256GB (and go up to 2TB).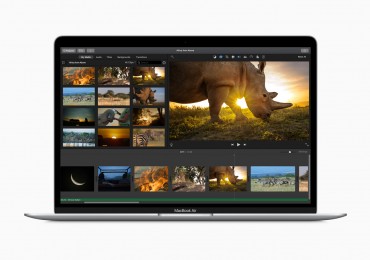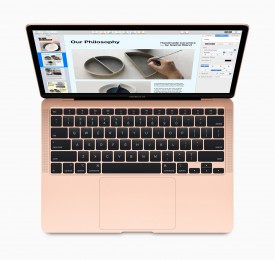 13.3" Retina Display (IPS, 2,560 x 1,600px) • Magic Keyboard (no Touch Bar)
The 2020 edition of the MacBook Air can be configured with quad-core i5 and i7 processors (the latter of which has 1.2GHz base frequency and 3.8GHz Boost). The i7 also comes with Intel's Iris Plus graphics. Overall, Apple is promising double the CPU performance and 80% more GPU oomph compared to the dual-core i5 with UHD Graphics 617 used in the previous.
The 13.3" display uses an IPS panel with 2,560 x 1,600px resolution (227ppi, 16:10) and True Tone technology that adjusts the display settings based on ambient light. This is the first generation of Air that can drive an external 6K screen, you can also do two 4K screens (the 2018 model topped out at 5K external screen).

For the new Air Apple used the so-called Magic Keyboard that made its debut with the 16" MacBook Pro. There's no touch bar here, though, just regular F-keys on the top row. Anyway, the Magic comes from the new scissor design that delivers 1mm of key travel (the ambient light tracking system also adjusts the strength of the keyboard's backlight).
As before, the chassis of the new MacBook Air is made entirely of recycled 6000-series aluminum. The whole thing weighs 1.29kg and measures 1.61cm at its thickest point (since it's wedge-shaped, the Air is 0.41cm at its thinnest point).


It has a 49.9Wh built-in battery that's good for up to 11 hours of browsing the web over Wi-Fi. It charges through one of the two Thunderbolt 3 plus using the 30W power adapter included in the box. There's also a 3.5mm headphone jack on board.

The new Apple MacBook Air is available online on apple.com starting today (note: students can get a $100 discount). It will be available in brick and mortar stores next week. You can choose between Gold, Space Gray and Silver.
?
A 1030G7 or 1060G7 are far better than any laptop from 2008, and probably your 4709MQ as well. Now how about you compare your battery life to this.
?
LOL, you're right, let's go for the mediocre OS
a
I like the scissor keyboard as you get repeated letters with one press.
ADVERTISEMENTS