Apple released the first version of the iOS 6 beta for developers during the WWDC keynote on June 11. Now, two weeks later, the second beta is being seeded to those installed the first on their iOS devices.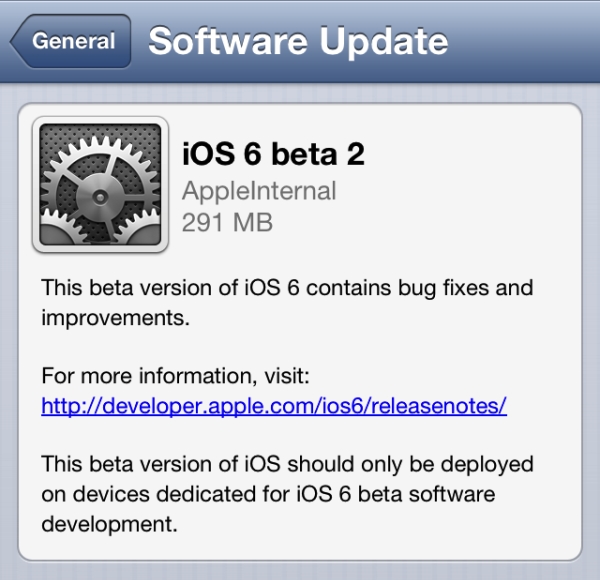 The update brings several bug fixes and performance updates, including fixes for the Address Book, Game Center, iCloud, iMessage and FaceTime, Maps and Safari. You can find the entire exhaustive list in the source link below.
One minor feature that has been noted is that when you are downloading this update, the Settings icon you see on the side is animated, so you can see the gears moving within. We wish Apple extended this functionality to app icons as well so they can animate and show some more information rather than just a just static image.
C
Apple always try to compete ITSELF n try to find something better than what they already have.. Iphone is the one who removed stylus from the hands of O2 n HTC Touch n all.. Android n Samsung always trying to show-off themselves over Apple.. Just lik...
b
Androids suck. My bro just got the new htc and right out of the box it was having problems. Yeah there are certain things you cant do with an iphone that you can with a android (because it's more of a open system) but its nice knowing that my iphone...
M
Simple. Opera Mini app should have flash since they have animating transitions.. iPhone has that app but iPhone, they doesn't have a main screen like Android phones do, they only have app screen and is too basic already
ADVERTISEMENTS