Apple has released the final stable version of macOS 10.13 High Sierra to users. It is now available for download for free on the Mac App Store and is about 4.8GB in size.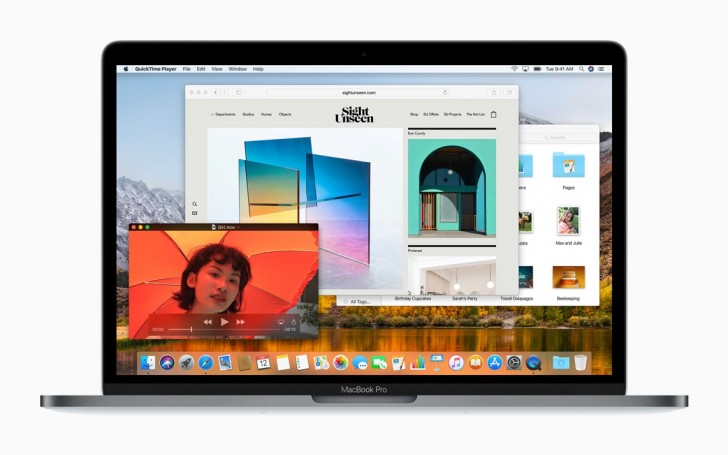 With its yearly update schedule Apple has already reduced the number of major features added every year and with High Sierra in particular there was more focus on improving the existing feature set rather than adding more. Despite that there are still some important features here that Mac users can appreciate.
One of the additions is support for the APFS file system. This is a replacement for Apple's older HFS file system, which has been around for years and was developed back when all computers hard hard drives. APFS has been designed primarily with flash storage in mind and takes full advantage of the fast flash storage found in most Macs these days as well as being future proof. It's designed to be faster, efficient, reliable and more secure than before. It is currently only available on Macs with all flash storage and those with Fusion drives or HDD will be getting it later.
The other addition is the support for HEVC codec. HEVC or H.265 is the successor to the popular H.264 codec. It is more efficient than its predecessor, with files taking up about 40% less space without compromising on quality, allowing you to store more files or download and stream faster. Even the videos shot from iPhones running iOS 11 now use this codec. It is the future for video compression and your Mac is now ready for it. The latest MacBook Pro and iMac models with Intel Kaby Lake processors are capable of hardware decoding the codec while older Macs will be able to do it on a software level.
High Sierra also brings with it support for Metal 2, Apple's proprietary low-level graphics API. Along with improving performance, Metal 2 also makes it possible to do machine learning for things like speech recognition, natural language processing and computer vision.
Further improving machine learning capabilities is the addition of Core ML, Apple's machine learning framework that lets developers integrate machine learning models within their apps using a Mac.
Virtual Reality support has also been added. Developers can now use their Macs to create applications that enable virtual reality functionality, including games. Valve is optimizing its SteamVR platform for macOS and the HTC Vive is now supported on Macs. Final Cut Pro X will be updated later with support for 360 degree VR videos. Developers will also be able to officially use external graphics cards over the Thunderbolt connector for additional graphics performance.
Other improvements include an updated Photos app with new UI and photo editing tools, new Safari with automatic blocking of autoplay videos and intelligent tracking prevention to prevent cross-site tracking of your cookies, improved Siri with a new voice and functionality, improved Notes app with tables support and improved Spotlight with support for flight status information.
D
Nice looking forward to updating my 2017 MBA.
c
If Apple and Microsoft can agree to work together for the next 100 years by using a core-sharing system Apple can use .net one core into APFS and will be able to run windows native applications it will be a great option for enterprise to consi...
D
After upgrading to macOS high sierra my laptop is having problem shutting down and opening up. Can these problem be solve if i re setup my os again ?