Those who downloaded the latest iOS 6 beta 4 yesterday were in for a bit of a surprise when they found out the YouTube app was no longer part of the OS.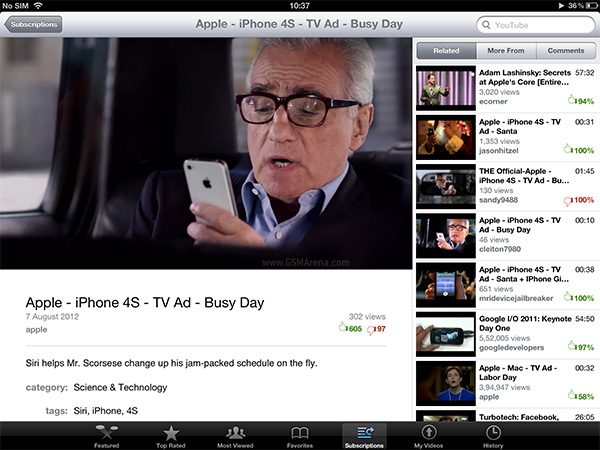 Turns out, Apple will no longer be including the YouTube player app in iOS 6 because their license has expired. However, those using iOS 5 and older versions can continue to use this application as long as they don't upgrade to iOS 6.
Apple has also revealed that Google is working on its own separate YouTube app for iOS, which will be released on the App Store some time in future, hopefully by the time iOS 6 is released to the public.
In case you are wondering how you will watch YouTube videos without the player, there is no need to worry as the videos can easily be played within Safari. You can also access your subscriptions and favorites by logging into the YouTube mobile website from your iOS device, which works similarly to the iOS app.
D
You think Google needs apple, no they don't android is dominating iPhone, Windows phone, Rim (Samsung is buying Rim) and others. Samsung, Motorola, HTC, Huwei, and ZTE all have to pay 25% to Google for market shares. IPhone gets money from sueing Goo...
?
Google are in direct competition with Apple. If they are developing a separate app for iOS 6 it's gonna be awful compared to the Android one.. This could work out well in Google's favor.
R
Apple tv,mac,os x,ipod,iphones.... For me apple is the best mobile terminal manufacturer.
ADVERTISEMENTS