Today marks a shakeup in Apple's lineup - first was the introduction of an 8GB iPhone 5c and now Apple has discontinued the iPad 2. The iPad 4 will be taking its place and price tag.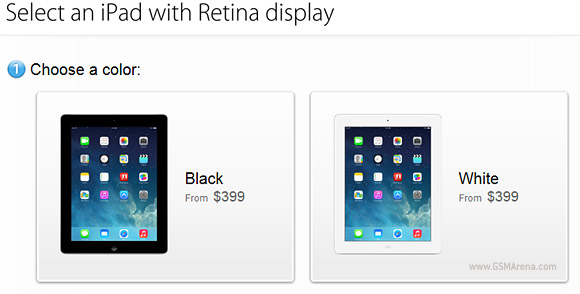 The iPad 2 was left as the budget option in the big iPad lineup when the iPad Air was unveiled, but at $400 it was too much for such old hardware. The iPad 4 features a Retina display, Lightning port and a modern chipset.
The iPad 4 ("iPad with Retina display") is available in Black and White at $400 for a 16GB Wi-Fi only version. There are no other storage options, but there's a Wi-Fi + LTE version at $530 for the major US carriers.
With this move Apple has almost completely phased out the old 30-pin adapter, the iPhone 4S is the only holdout (and the cheaper iPhone 5c 8GB aims to replace it). This would make it easier for the company when a unified charger becomes the law of the land (it will only need one adapter instead of two).
?
What's the point of your inability to spell words properly or use punctuation correctly? What are YOU trying to say?!!!
D
What is the poent of your message? What do you want to say?
H
I did it, changed my Galaxy Nexus for an iPhone5. I lived the transition from iOS6 to iOS7. Got bored, sold the iphone and bought a Nexus 4. I had the iphone for about 3 months, couldn´t stand it anymore.