Last week we discovered that Apple is doing its best to deter you from replacing your iPhone's battery at any service center that isn't authorized by it for that purpose. Regardless of whether you'd replace your battery at a third-party service center with a non-official part, or even an official Apple battery, once you'd turn on the iPhone you'd keep seeing an error message in Settings. Like this: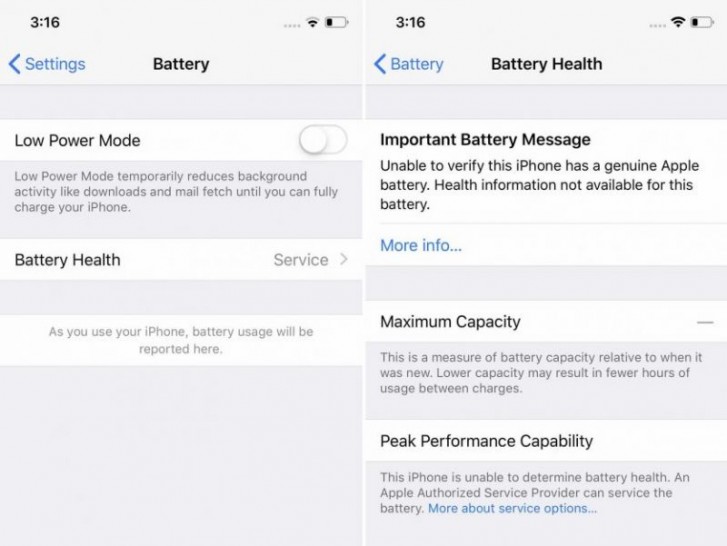 Today Apple has responded to the controversy surrounding this tactic, saying the following, in a statement sent to iMore:
We take the safety of our customers very seriously and want to make sure any battery replacement is done properly. There are now over 1,800 Apple authorized service providers across the US so our customers have even more convenient access to quality repairs. Last year we introduced a new feature to notify customers if we were unable to verify that a new, genuine battery was installed by a certified technician following Apple repair processes. This information is there to help protect our customers from damaged, poor quality, or used batteries which can lead to safety or performance issues. This notification does not impact the customer's ability to use the phone after an unauthorized repair.
So you can still use whatever battery you like, you'll just have to live with that message always there in Settings, and also with the lack of information regarding the battery's health.
If you're wondering why you'd get this message even if the unauthorized service center installed a genuine Apple battery in your device, the answer is that the warning comes from a microcontroller that only authorized technicians can properly configure. If iOS doesn't detect the correct configuration, it throws up that message regardless of the actual repair part you used. So while getting an official battery into your iPhone is important to Apple, it's also important to have someone perform the swap who was previously trained by the company according to its own processes.
Z
Cutting everything in term of profit ss
?
Customer: Hey Apple!!! My phones not working after replacing batteries with a new certified apple battery thats costs $$$$$$. Apple: You're charging it wrong!!!!
g
it escapes me: where I mentioned "dangerous" in my text? anyhow, in those two hours you spent replacing the batteries (+ costs...) I make sufficient to buy a new phone. so, a matter of efficiency...
ADVERTISEMENTS