Apple has released the iOS 7 beta 6 to developers. The latest beta comes just a week after Apple released beta 5 and oddly near the end of the week when usually the betas are released on Monday.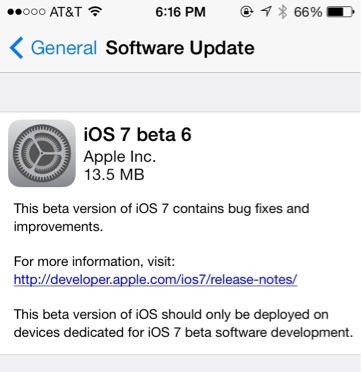 The general consensus is that the update was released in a hurry to patch some major bug in the previous update. Apple's changelog mention that the new update addresses an issue with iTunes in the Cloud "where some purchases may download or play unexpected items".
The update is now available to download as an OTA download or through Apple's Developer Center.
?
Not hard to use the iphone to the fullest. There's not that many features available to use compared to other phones. LOL
D
MAIL (inbox) number of mail not show proper eg I am looking 7 No mail but no show begging Count mail No
?
Listening to you it's hard not to laugh at you. I agree with the other comment. You're expecting it to be good and will be the first one to complain when it's not.