Apple had a big day yesterday - it unveiled two new iPhones - iPhone 6 and iPhone 6 Plus. It also detailed the long rumored Apple Watch. And just as expected, Apple also announced the availability of the upcoming iOS 8 - September 17.
The iOS 8 comes pre-installed on the new iPhone 6 and iPhone 6 Plus, while the update is compatible to iPhones ranging from iPhone 4S to iPhone 5S, to iPod touch 5th generation and to the iPads from iPad 2 to iPad Air, including both minis.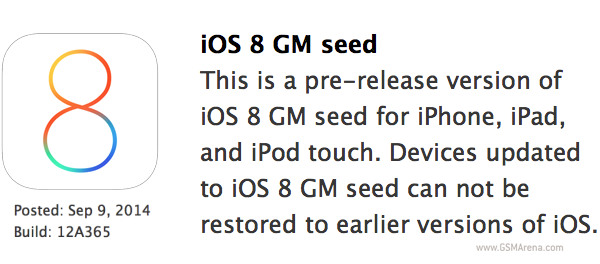 What Apple didn't announce yesterday is the release of the final Gold Master build of the iOS 8 to developers. It is already available for download on Apple's Dev site. If you are running on some of the beta versions, you must backup everything and then use restore option on iTunes. There is no OTA seed, so this is the only way you jump on the final dev-targeted release of the iOS 8.
t
Also known as..golden shower
?
That's obvious. Doesn't mean anything. If they fixed all the weight, lag, and bugs that should fix the 4 before leaving it in the dust. So either they didn't fix it all or they did, but just left all those users high and dry.
J
True, but here in a 3rd word country where we had the FIRST Porsche Panamera, we are phone fans too, 3rd world countries, really where you live in 1+ World country... btw Android its a good system but only 20% of all Android phones are good...like HT...