Apple stock closes at all-time-high in anticipation of 10th anniversary iPhone
Apple stock closed at an all-time-high on Monday morning with a closing price of $133.29 per share. This happened after Goldman Sachs said that Apple was slightly undervalued based on hearing speculation about the device possibly having AR features, signaling it may be a significant update to the iPhone.
The price of the stock had been steadily rising after Apple's 2016 Q4 earnings call. The highest price of Apple's stock during a business day was $134.54 per share, which the closing date has not yet reached.
Many investors Apple usually buy stock during the building up of rumors and leaks until around the time that a new iPhone is announced; that's why you'll see a drastic shift in stock prices every year around September. Back in 2014, stock kept rising even a couple of months after the iPhone 6 came out, though it was a significant upgrade over the iPhone 5.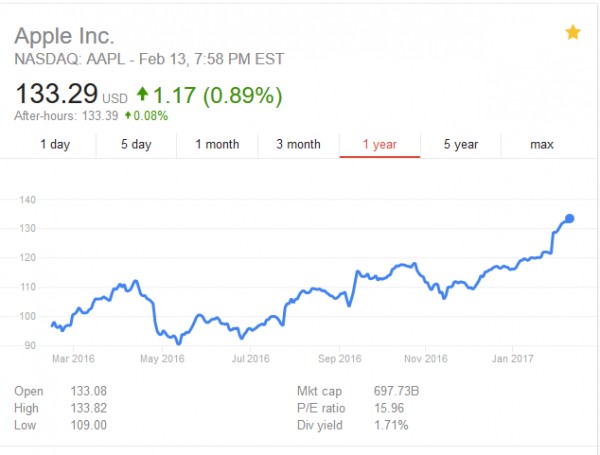 AAPL - Stock price over the last year
Given 2016's iPhone 7 and MacBook Pros were a bit underwhelming for some, Apple is expected to launch a totally revamped iPhone for the original iPhone's 10-year anniversary and among its expected features are wireless charging, an OLED display, and some kind of AR feature has also been widely rumored. Maybe not something along the lines of the Amazon Fire Phone parallax effect throughout the UI, but maybe Apple will put the feature to a useful application.
?
It's not "all-time-high", it's just a bubble because those guys on Wall St are good at selling craps... Under Tim Cook, Apple is just another brand.
D
Apple will not fall...It has just become "one of" instead of "It" Look at Blackberry...the once "it", then it became "One of"... The trick for apple will be staying there and holding on to their market share... Samsung and the Chinese phones are ...