Apple started today the iPhone 4 free case program as promised. The whole procedure is done via a dedicated app directly from the phone. Meanwhile Apple quietly delayed the white iPhone 4 until the end of the year.
Right on time, Apple launched its iPhone 4 free case program. If you've already got an iPhone 4, you should apply for a free case until 22 August. If you plan on buying an iPhone 4 before 30 September, you won;t get the free case bundled with the phones. You still need to apply for the program up to a month following the purchase.
To apply, download the dedicated iPhone 4 Case Program app from the AppStore. Then sign in with your account and choose the case that suits you best. Currently Apple is offering a choice among seven different cases: a black Apple Bumper, Incase Snap Case, Belkin Shield Micra, Griffin Motif, Griffin Reveal, Speck Fitted and Speck PixelSkin HD.
Once you've applied, your free case of choice will ship within the next 3-5 weeks.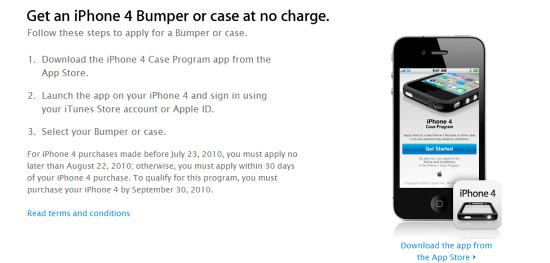 Everything is done via the iPhone to prevent any frauds. In case you already bought a bumper, Apple will refund your credit card automatically.
In related news today Apple announced the white iPhone 4 is delayed until "later this year". Yes, it means from August until Christmas. The reason - unexpected manufacturing woes. Yet again.
D
Recall? Dont think so. Heres a newsflash... Nokia N series handsets sometimes freeze up, Sony Ericcsons sometimes freeze up... Theres been plenty of repeat faults over the last few years and the manufacturers hardly ever seem to address the issues. A...
P
no wonder their outselling the white one is not out!!
m
free case? apple? giving it? hahahaha i dont know about you but for me this could be an asset because its an additional fashion or style for your iphone 4 andalso not to mention its an additional protector for your mobile so sure, yeahm, why not, th...
ADVERTISEMENTS