Now that even the last of Apple's 2017 iPhones is finally available, it's time for the rumors about the company's 2018 lineup to start. Ming-Chi Kuo of KGI Securities is leading the way as always, today releasing a report about the specific smartphones that he expects Apple to unveil next year.
The first thing you'll notice about all of them is that they're keeping the design of the iPhone X intact, bezel-less screen and controversial notch included. Thus, all the iPhones of 2018 will be similar in the looks department and similarly devoid of a fingerprint sensor. They will also all feature the TrueDepth camera system on the front.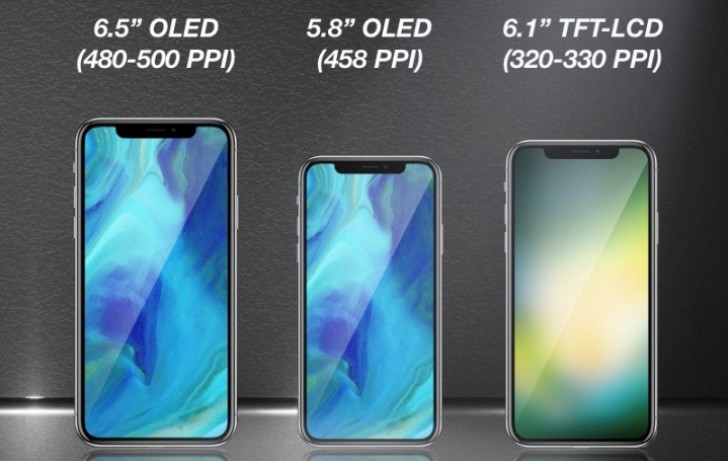 Kuo says the two models with OLED panels will basically have the same top of the line innards. The smaller of these will be the same size as the iPhone X basically, while the other adds an option for people who like bigger devices. The 6.5" behemoth will come with an even higher resolution than the X, aiming for up to 500 ppi pixel density.
Sitting in between these size-wise, the 6.1" iPhone with an LCD screen will become Apple's entry-level smartphone, expected to be priced from $649-$749. Its display will be lower-res and thus have a smaller pixel density than its siblings. There are probably also going to be internal differences aimed at making this particular handset cheaper than the other two. The materials used could be cheaper too.
While Kuo is usually pretty reliable, note that none of this information has been confirmed in any way at this point, so it may be advisable to take all of it with a decent dose of salt.
A
When will be lunch I exited for buying iPhone x plus
N
After my impulsive buy of an S8 I was reminded of why I always use iPhones. Samsung, never, and I mean never again.
s
because this brand better than others..
ADVERTISEMENTS