Apple pocketed more than 90% of the mobile market's profits in 2015, according to data posted by Michael Walkley, who works as an analyst with market research firm Canaccord Genuity. The iPhone maker's share of the smartphone market stood at 17.2% last year.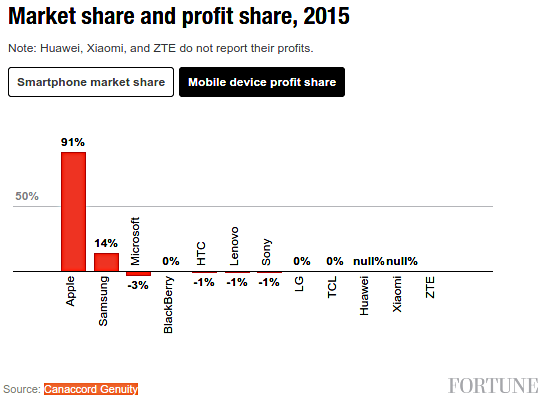 Samsung, on the other hand, captured around 24% of the market, but its profit share stood at only 14%. If you notice, the combined profit pocketed by both Apple and Samsung comes in at 105%. However, the figure comes back to 100% given that many of the other players in the market were in loss.
Quarter-wise, the Cupertino-based company has been taking home over 90% of the market's profits for the past five consecutive quarters.
D
In your wildest dreams, perhaps.
D
And we customers never bothered to switch to android driven by compassion towards customers. They are all driven by the welfare motive and not profit motive like apple. They just want to help the customers who cannot afford apple and they care a damn...