Apple's macOS High Sierra finally introduced native support for h.265 (HEVC) videos and the company made a big deal about 4K video support on the new Macs. Apple TV is still stuck on 1080p, but it seems that this will change tomorrow.
Info from config files confirms that the new Apple TV 4K will play 4K 2160p video with HDR support – both HDR10 and Dolby Vision. If you're streaming video instead of playing local media, you'll need a 15Mbps Internet connection or better (not all that much bandwidth is needed, thanks to HEVC) (note: this seems to be a part of Apple's much-rumored streaming service).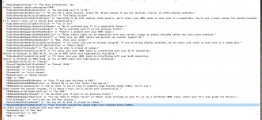 Apple TV 4K configuration shows 4K HDR support
The hardware will be more powerful to handle the increased processing demands – a three-core Apple A10 Fusion chipset with 3GB of RAM (the brain of the iPhone 7 Plus). The latest official Apple TV (from 2015!) has an aging A8 chipest (from the iPhone 6) which tops out at 1080p/60 h.264. In short, this update was a long time coming.
?
Who needs it? Doesn't all reasonable modern TVs already have the functionality builtin?
?
Too late..You are behind others..
?
what are you talking about? do you have anything else better to do?