Tim Cook took the stage at the start of today's event and almost immediately announced the new iPhone 6. The Apple iPhone 6 is based on iPod touch looks and has a 4.7" screen.
The screen is protected by "Ion-strengthened glass", which is curved around the edges for a more seamless experience when swiping. The screen itself is an LCD with "Retina HD," which translates to 750 x 1,334 pixels. This pushes the pixel density to 326ppi.
Despite the new resolution, apps will "just work" thanks to a desktop-class scaler. This will only be needed until devs update their apps to support the new resolution.
The 8MP iSight camera is back for a fourth year in a row. Apple claims the camera has been improved now - it still has 1.5µ pixels, but features phase detection autofocus and sits behind an f/2.2 aperture. There's no OIS though, it relies on digital stabilization. The camera can shoot panoramas up to 43MP.
The video resolution is kept at 1080p but the 60fps has now been promoted to the max FullHD resolution (up from 720p @ 60fps). Slo-mo video can shoot at 120fps and 240fps, but at a lower resolution.
The chassis is made of anodized aluminum with a stainless steel Apple logo. The body is just 6.9mm thick.
The Apple iPhone 6 is powered by a second-generation chipset, the Apple A8. It offers 25% more CPU power and 50% extra GPU oomph. The chipset is built on a power-efficient 20nm process, which also makes it 13% smaller physically than its A7 predecessor.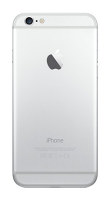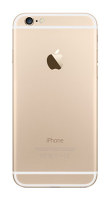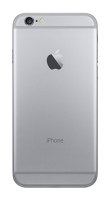 Three color options: Silver, Space Grey and Gold
Apple promises the battery life for the new iPhone 6 will be equal or better than the 5s. It will do up to 14 hours of talk time. Aside from the regular GSM calling, it supports VoLTE (Voice Over LTE) and Wi-Fi calling (for T-Mobile in teh US and EE in the UK). LTE has been updated to support up to 150Mbps downlink (Cat. 4) and supports up to 20 bands.
Other connectivity upgrades include Wi-Fi 802.11ac for three times faster Wi-Fi speeds. Finally, there's also NFC now, which enables Apple's new Apple Pay service for wireless payments.
The M8 co-processor succeeds the M7 and is coupled with a barometer. The two accurately track changes in elevation and can even count the steps you've taken.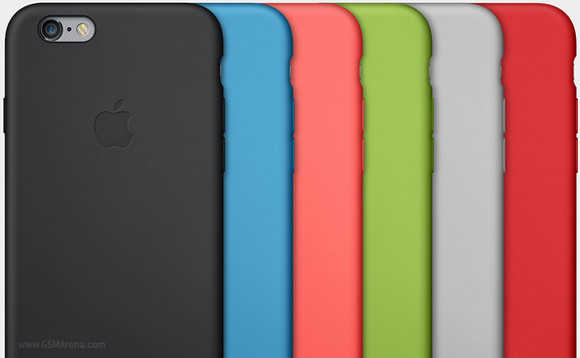 The Apple iPhone 6 will cost $199 for the base 16GB model (with two-year contract). There's no 32GB model this year, $299 buys you 64GB instead and there's a $399 128GB version. Pre-orders start on September 12, the phones will ship on the 19th.
?
I don't understand why people like you troll on here! ??? I thought this site was suppose to be helpful so that other people can understand the handset. iPhone 6 is a premium handset and I gather that you obviously don't own an iphone! If you cannot ...
J
If u think 64 bit CPU is useless unless with 4GB RAM ... Why Google striving android L to support 64bit ??? Why the other smartphones makers do anything as the same as apple ... One good example is when iphone 5S gold option and touch ID has came out...
d
oH....come on guys... they are jst phones... enjoy dm...dont let them enjoy all of u - fighting so desperately for their so called supremacy...a sheer wastage of time...
ADVERTISEMENTS