Uncharted territory
Apple Watch review: Uncharted territory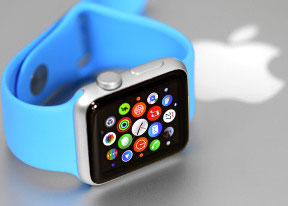 Display
Apple Watch utilizes a flexible AMOLED screen with 326ppi density. The 38mm model has a 1.34" screen with 272 x 340 pixels, while the 42mm packs a 1.53" unit with 312 x 390 pixel resolution. It's pretty much the first Apple device to come with AMOLED screen.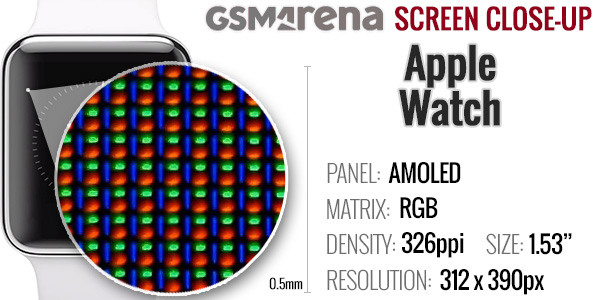 Using an AMOLED display pretty much guarantees excellent viewing angles and punchy colors as is the case with the Apple Watch. The contrast is superb and the blacks are as deep as they come.
Display test
50% brightness
100% brightness
Black, cd/m2
White, cd/m2
Contrast ratio
Black, cd/m2
White, cd/m2
Contrast ratio
Apple Watch
0
59
∞
0
201
∞
Samsung Galaxy S6
0
208
∞
0
363
∞
Apple iPhone 6
0.17
207
1230
0.61
740
1213
Another benefit of the AMOLED tech is the great sunlight legibility - something very important for a watch. We can confirm the Apple Watch is indeed great under bright sunlight and you'll have no problem using it outside.
Connectivity
Apple Watch doesn't come with a SIM card slot as some competitors like the Samsung Gear S or the LG G Watch Urban LTE, which means it can't connect to a mobile network and can't operate as a standalone device. Sure, you can take it outside without your iPhone, and use it for listening music and tracking, but to get the full functionality you'll need to hook it to your primary device.
The Watch supports Bluetooth 4.0 LE for connection with your iPhone and wireless headset.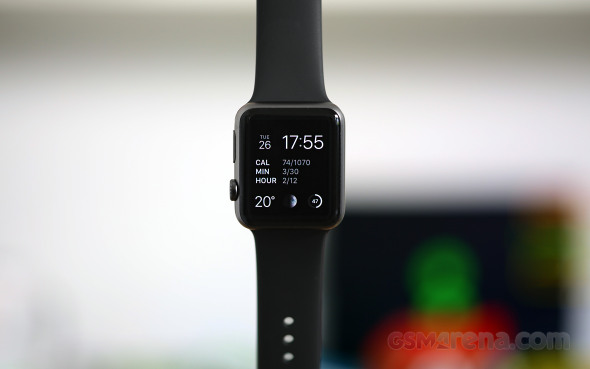 We noticed something really odd - if you are using a Bluetooth hands-free device or a hands-free car system, you'll have to change the automatic connection from your iPhone to your Watch. Otherwise the Watch won't prioritize those as primary talking devices and will make you switch manually each time. If you don't do this - each time you dial someone from within the Watch Phone app, you'll have to talk and listen through your Watch, which doesn't make sense at all.
While connecting your Bluetooth device to the Watch instead of the iPhone is a solution, the iPhone-Watch-handsfree double bridge creates a monstrous lag that will render your call awkward and annoying. This needs to be fixed and pretty quickly at that.
There is also support for Wi-Fi b/g/n and the Apple Watch can connect to your iPhone via Wi-Fi Direct even when your Bluetooth is off.
There is also NFC, which is needed for the Apple Pay service.
Finally, the Watch supports wireless inductive charging and uses a magnetic cable similar to the MagSafe charger for the MacBook lineup.
Battery life
The 38mm Apple Watch is powered by a 205 mAh battery, while the 42mm battery capacity is still unknown. We did some exhaustive testing on the 38mm battery in order to give you a better idea on what to expect. As you may know the Watch battery life topic turned out quite hot as Apple is officially giving it 18h.
We started our day at 100% battery at 8:30 AM in the morning. After a 45 min outdoor workout, a 15s voice call, 5 Siri interactions, 5 Viber previews, 1 min of scrolling through Glances, and 70 time checks (up to 2s each) we ended up at 60% battery at 1 PM.
Throughout the afternoon we checked the time 40 times (each up to 2s), accumulated 5 min of using different apps (including Glances a.k.a. widgets) usage, used the heart-rate monitor 5 times manually, and the Watch rang 5 times for call notifications and dinged about 10 times for emails or Viber alerts. By 8:30 PM the Watch battery dropped down to 20%.
After work, at home, we check the time 15 times (each up to 2s), did 2 additional pulse measurements and used some apps for a total of 1 min. At 11PM the Watch got its battery drained down to 10% and entered in Power Reserve mode, which turns it into a simple time-telling device but lets it last for about half a day.
After digging in the Health app we found app the Apple Watch used the heart-rate monitor starting 8:30AM to 11PM 285 times, including our few forced checks.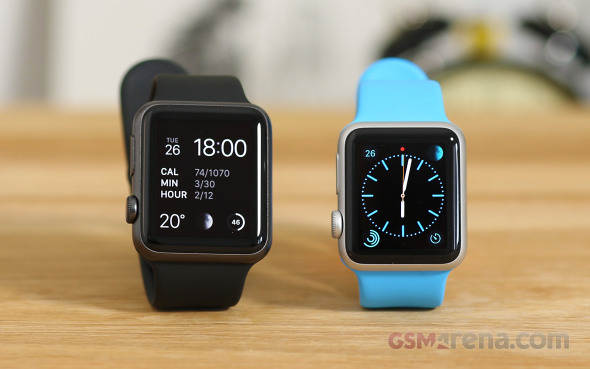 For the second test we chose a simpler watchface, which doesn't require much GPU power for animations (the X Large one) and managed to squeeze about 5-6 hours more. So we can confirm that choosing a GPU-efficient face will boost the Watch battery life.
Then we turned off the heart-rate measurements (the Watch does about 200-300 of those each day) from the Apple Watch app -> Privacy. This gave us around 6 extra hours of battery life.
So after a while we were able to achieve two full days of battery life hassle free by turning off the heart-rate monitor, opting for a simpler watchface and using the Power Reserve battery saving mode while asleep for the two nights.
Of course that last scenario is rather limiting so the fact remains that more often than not you'll have to charge your Watch every night. It's hardly ideal to have another device to charge every time you go to bed and it's notably worse than what some of its competitors offer - some can easily go for 3-4 days.
Then again, it's not as bad as some feared - the battery backup will always be more than enough to last you through a day so you won't have to do a second charging during the day. That might change if more apps worth using appear and you spend more time using them, but for now things are okay.
The 2m-long inductive charger is magnetic and clicks on the Watch very well, as the MagSafe plug does on the MacBooks. Recharging does take quite a lot of time - a depleted Watch takes about 3 hours to go back to full.
Our experience with the 42mm Apple Watch showed that its battery lasts slightly longer, but not enough to allow us to reach home on a second day so again we ended up charging it daily.