Uncharted territory
Apple Watch review: Uncharted territory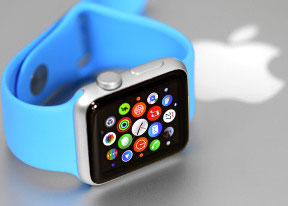 Fitness tracking and health
Apple Watch does not feature a built in GPS and instead relies on your iPhone for location tracking. It does come with a motion processor though and, of course, a heart rate sensor. This allows the Watch to collect raw data as steps count; time spent running, walking or standing still; and heart-rate measurements.
The raw data is displayed by the Activity app in your Watch and in your iPhone. It summarizes it easily for you in three colorful rings - Walking, Exercising (Running), Standing. The heart-rate measurements are used to calculate burned calories and precise monitoring during exercises.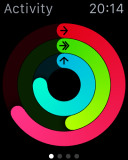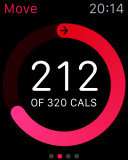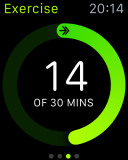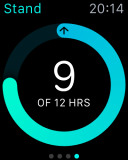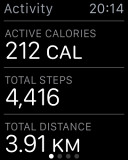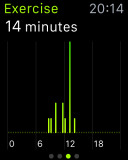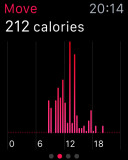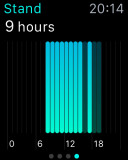 Activity app on the Apple Watch
Naturally you can set different goals for the Activity app, depending on your daily routine. Achievements are available, too.
The Activity app on your iPhone also doubles as Activity Calendar, where you can see full statistics of your daily routine per weekly, monthly or yearly basis.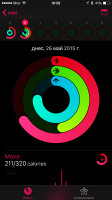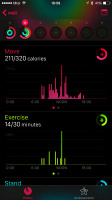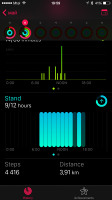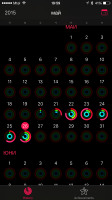 The Activity app on the iPhone
The Workout app is the real helper, when you are training. The supported workouts are running, walking, cycling, rowing or climbing (stairs) and you can set time, distance, calories, among other goals before you proceed with your training. Your iPhone will track your location and draw your route, while the Watch will inform you about your reached goals and what you need to do.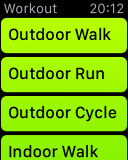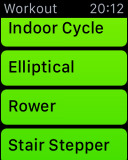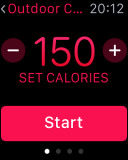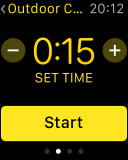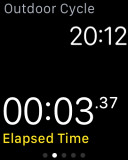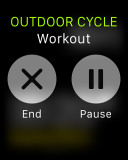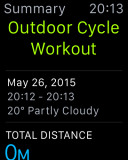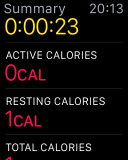 The Workout app on the Apple Watch
You can go without the iPhone outside and do a Workout, but you'll lose the ability to track your routes.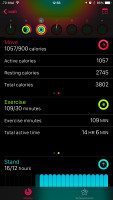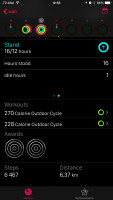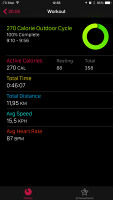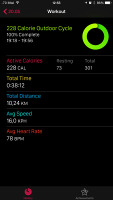 The Workout data displayed on the iPhone 6
All the data is also collected in your iPhone's Health app. There you can find all heart-rate measurements amd see detailed charts of your steps, climbed floors, walking and running distances. The Health app seems a bit clumsy to use at first, but once you find your way around its charts, you'll have no problem navigating through its interface.
Notable apps
Many systems and third-party apps have already been updated with Watch support, though not all of them add valuable features. Naturally, some of the most important updates come from Apple and its default iOS apps.
There is a Camera app on the Watch, which fires the Camera on your iPhone, displays the viewfinder in real time and allows you to snap shots without touching your phone. There is even a timer and you can opt for a delayed capture.
The Photos app on the Watch can sync a portion, or all of your iPhone images. You can choose the photos limit either by count (up to 500) or by megabytes (up to 75MB). The Watch scales your images down so they don't take as much space.
Navigation through Photos is easy - you zoom in/out with the Crown and touch the screen to open an image.
There is a Music app on the Watch, too. Normally it controls your iPhone Music app, but it can also act as a stand-alone music player, which music is synced from your iPhone. You can sync up to 250 songs or 2GB worth of music, configurable in Settings within your Apple Watch app on the iPhone.
Just choose a playlist or playlists from your phone and they will be uploaded on the Watch on the next battery recharging. That's right - you will need your charger to do any kind of syncing, making it impossible to upload new tracks on the go.
After you sync some music, you will be able to go outside without your iPhone and enjoy your favorite tracks using nothing but your Apple watch and a wireless headset.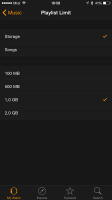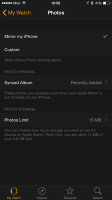 Settings limits for Music and Photos from the Apple Watch app on the iPhone
Quite expectedly compact versions of Calendar, Timer, World Clock, Apple Remote and Maps are available. Maps supports navigation and we hope other major navigation services (such as Google Maps or Sygic) add support for the Watch as well.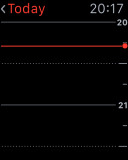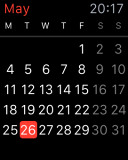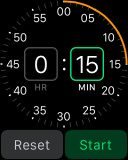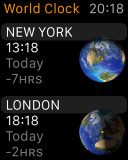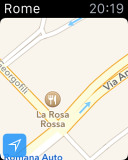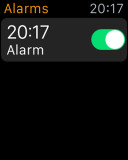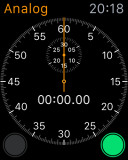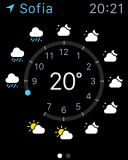 Calendar • Timer • World Clock • Maps • Alarms • Chronometer • Weather