Apple released the highly anticipated WatchKit SDK to developers. The Apple Watch app development suite is available alongside iOS 8.2 Beta to registered app creators.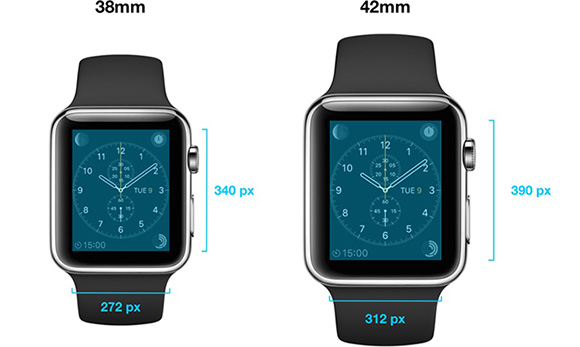 As expected, WatchKit reveals quite a few juicy bits about the upcoming Apple Watch, headed by its display resolution. As it turns out, the duo of 38mm and 42mm Apple wearables will not share the same amount of pixels on their display - the smaller version with tote 340 x 272 pixels, while the larger model will offer 390 x 312 pixels. Both displays will carry the Retina moniker.
Because of the two different resolutions, Apple Watch app developers will be required to use different image assets for both display models. The move will allow content to look up to Cupertino's guidelines.
For comparison, LG G Watch R sports a display with a resolution of 320 x 320 pixels. Moto 360 on the other hands, makes do with a 320 x 290 screen.
WatchKit SDK also reveals that users will be able to interact with Apple Watch in a variety of ways. They include short and long look, swipe gestures, taps, utilizing the Digital Crown, and Siri among others.

For the time being, Apple Watch apps will require an iPhone to work. Standalone applications will arrive in late 2015.
Apple Watch will arrive on retail shelves in early 2015. Its pricing will kick off at $349.
S
Not really. My wife is on her third iPhone, following every "S" upgrade where the design is corrected by the experience of the numbered iPhones. Also on her third iPad. I could have an iPhone 6, iPad Air 2, iWatch, iWhatever; but the Apple ...
E
Take that "retina" label with a truck load of salt: http://www.cultofmac.com/173702/why-retina-isnt-enough-feature/ You can try this simple one minute test on any phone/phablet/tablet/pc: http://cibmal.dk/FileTransfer/ResolutionTes...
?
Y'know, that kind of comment doesn't help matters. It just makes Apple users look even worse. (Ok, this works both ways, as some of the comments make the 'opposing' fans look bad too. Everyone just needs to calm down when talking about tech. Or ...
ADVERTISEMENTS