Apple Watch is available exclusively online since its launch in April. Apple just couldn't produce as many Watches as people wanted, so it focused on delivering the first batches to its online customers only. Later Apple detailed the retail availability - the Watch is supposed to hit the shelves across the international Apple Stores on June 26.
Today Apple launched an option to reserve an in-store pickup for the Apple Watch. The reservation & pickup option is available across the globe, on markets with Apple Retail Stores. You need to register, enter a valid Apple ID and a local phone number and make an appointment within 30 minutes upon receiving a special code on your email address.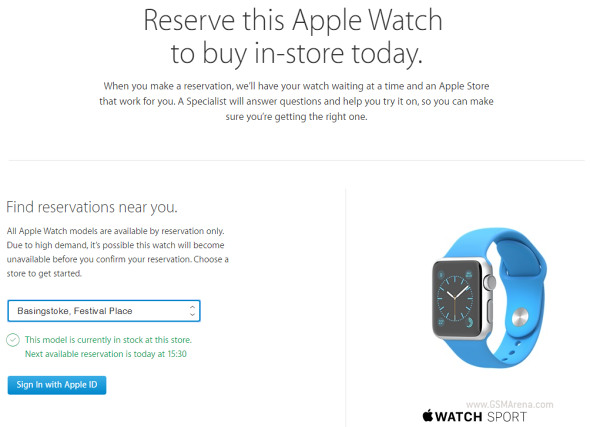 After you are done with your reservation, you can go to your selected retail Apple Store and get your Watch. Naturally not all models are available for in-store pickup, while all Editions are online exclusives only.
The same page is live on the Australian, German, French, USA and UK Apple Stores, among others. It seems Apple is prepping for the promised retail launch on June 26.
A
Because, why not buy anything for other than the brand logo alone? You can do that and expect Apples design philosophy to get worse.
?
Been waiting for this and was going to buy when store availability but "unfortunately" I spent too much money on heavy machinery for May and June. Still, impressive how superior this is to other watches, very good yo control and the wheel f...
D
-is this for all who do reservation before? Or also for those walk in?