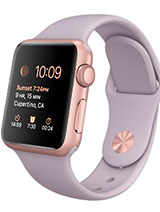 D
I just switched from Samsung devices over to Apple, and I figured I'd immerse myself. I've been nothing short of impressed, and that includes how I feel about this watch. The interface is simple to use, elegant, and beautiful. The watch itself is comfortable and I find myself checking my phone a lot less, since all important notifications come through the watch. The battery lasts me all day (but I do need to charge it nightly), and it works seamlessly with my iPhone 6s.It is Gold plated from telemart .I bought this product from telemart .pk and its really impressive.
D
I wish there was option of playing videos 😔
D
Every Creation of Apple is so beautiful ...
Total of 8 user reviews and opinions for Apple Watch Sport 38mm (1st gen).