Samsung and Apple have been tied up in court saga's for quite some time now. The two tech titans have been keeping their legal department busy with all sorts of copyright infringements and patent suits, but few can match the scale of the famous 2012 suit.
If you don't quite remember what all the fuss was about, back in 2012, Cupertino filed a copyright infringement suit against Samsung for some of their handsets, at the time. After a long and arduous legal battle, Apple won just under $930 million in damages. A new court ruling, however, has reversed a part of the fine.
U.S. Court of Appeals for the Federal Circuit in Washington, D.C has accepted most of the original ruling, carried out by a court in San Jose, California, but has ordered the said court to reconsider $382 million of the fine, awarded for "trade dress dilution". As it turns out, part of Apple's case was based on allegations of infringing an unofficial "trade dress" that the US company was using.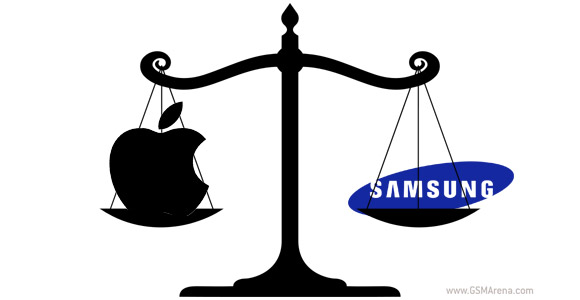 The term itself refers to a way a product is presented. This might cover promotional materials, packaging and the sort, but the key thing is that by definition it cannot pertain to any functional parts of a given product. So it is meant for presentation only. Apple, however, was using certain lines from the said document, like - "a rectangular product with four evenly rounded corners" and "a flat, clear surface covering the front of the product" in relation to Samsung's current mobile devices, namely the Galaxy S and Nexus S.
On this grounds, part of the fine was reversed and consequently, the court saved Samsung a large part of the settlement. This, however, doesn't mean that the legal ordeal between the two companies is over, far from it. In 2013, after Apple failed to convince the court to issues a ban from selling the accused Samsung phones in the US, thing escalated. A settlement outside court wasn't reached and the Cupertino giant continued to file new claim against newer devices, like the Galaxy S3.
So, like they say, this battle goes to Apple, but the war is far from over. Whether or not it needs to be stretched out any further is a totally different question. And if you are really keen on reading the court order itself, the full text is in the second source link.
?
Here comes samsung 3 years later making the s6 a phone that could almost be mistaken for the iphone 6. Those hundreds of millions must be a burden for samsung to hold on to :D
C
I have respect for this guy cause he is a part of technology, but all what he invented is called, manipulation in a way that is written danger on users forheads. In fact, all his politics were high end danger to society. Sadly, i don't see any improv...
C
So, two thieves fight for some stolen idea and the biggest won. If i were Nokia i would sue this so,called giants until they go broke just for using the ideea of a mobile phone, smartphone and gsm networks. Fake low lifes useless copycats!!!