Apple's iPadOS 16 arrives with new multitasking experience for M1 iPads
Apple's announced its next-generation operating systems today, and we've already covered what's new in iOS 16 and macOS Ventura. So let's now turn our attention to iPadOS 16, which as you'd expect has a lot of similarities with iOS 16, and gets many of the same features. However, there are also some iPad-specific things in there, and perhaps none more interesting than the new Stage Manager multitasking experience.
This works on iPads powered by Apple's M1 chipset only, and it organizes apps and windows automatically. It also lets you create overlapping windows of different sizes in a single view, drag and drop windows from the side, or open apps from the dock to create groups of apps for faster multitasking when you need it.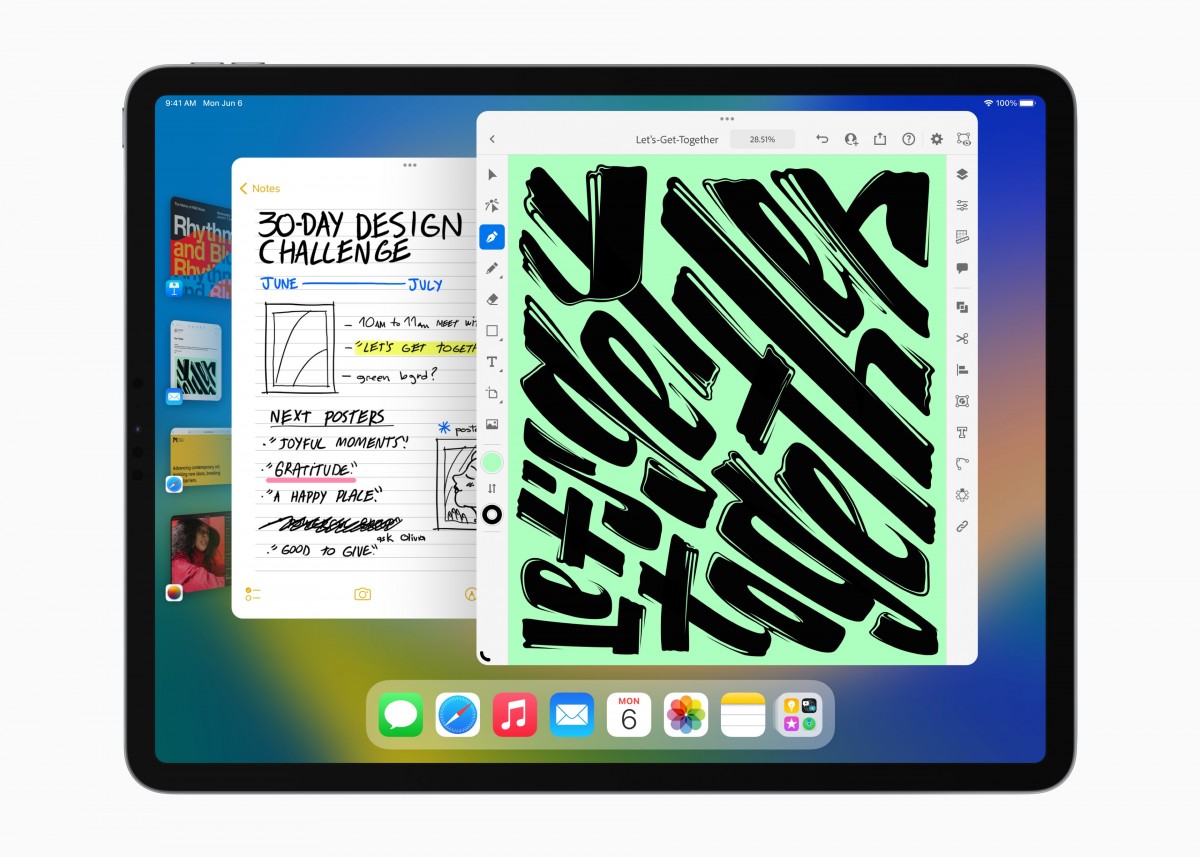 iPadOS 16 Stage Manager
The window you're currently working on is displayed prominently in the center, while other open apps and windows are arranged on the left in order of recency. Stage Manager also unlocks full external display support with resolutions up to 6K. If you connect your M1 iPad to an external monitor in this way, you'll be able to work with up to four apps on the iPad and four apps on the external display simultaneously.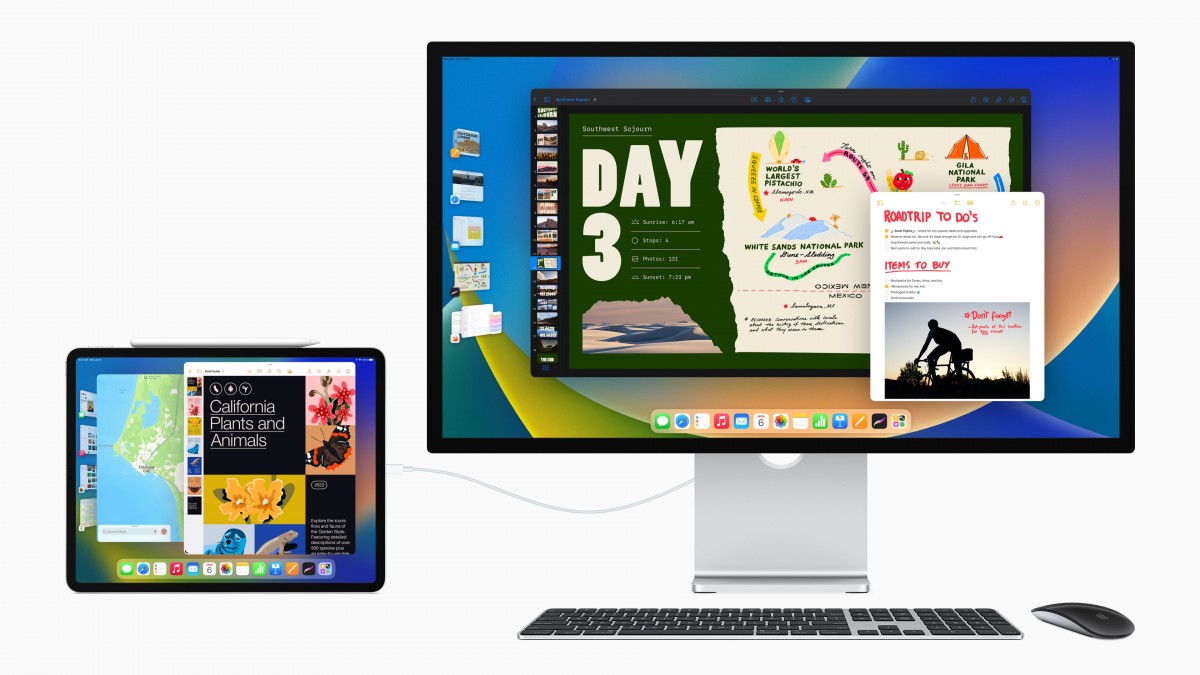 iPadOS 16 external display support
Moving on, there's also a new Freeform collaboration app in iPadOS 16, which boasts a "flexible canvas". It lets you see, share, and collaborate all in one place without worrying about layouts and page sizes, and it fully supports the Apple Pencil. It's a real-time collaboration canvas and "later this year" it will allow people to start a session from FaceTime and see the updates from the others in the Messages thread.
The Mail app now gives you a moment to cancel sending a message, and you can also schedule emails. The app will notify you if you forgot to include an attachment or recipient, there's a new feature that will remind you later of certain messages, and sent emails are moved to the top of your inbox for quick follow-ups. A new search experience gives you better results by correcting typos and using synonyms for the search terms, and also comes with a richer view of contacts and shared content.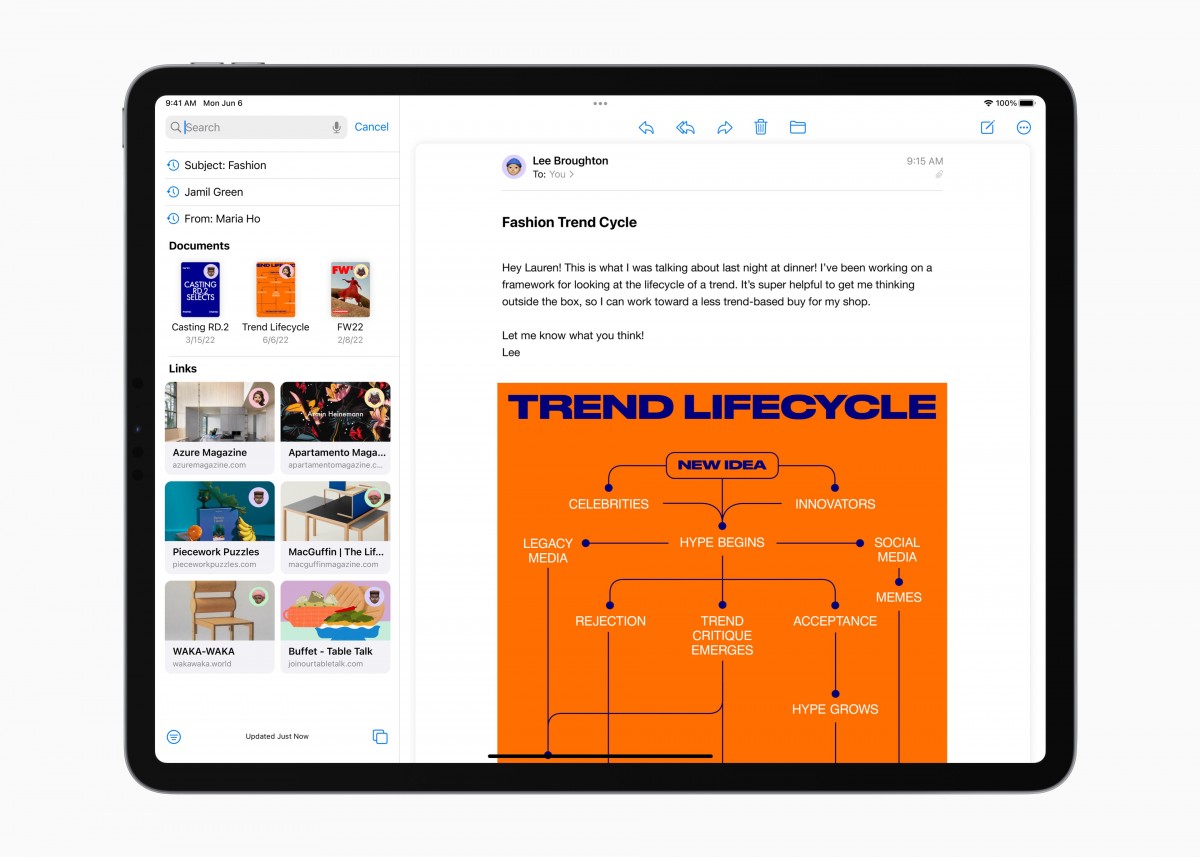 Mail app in iPadOS 16 gets improved search
Safari gets shared tab groups for people to collaborate on a set of tabs with friends and see instant updates. You can share bookmarks too, not just tabs, an start a conversation inside Safari. Tab groups have dedicated start pages that are customizable with a background image, bookmarks, and some unique sections that everyone can see and edit.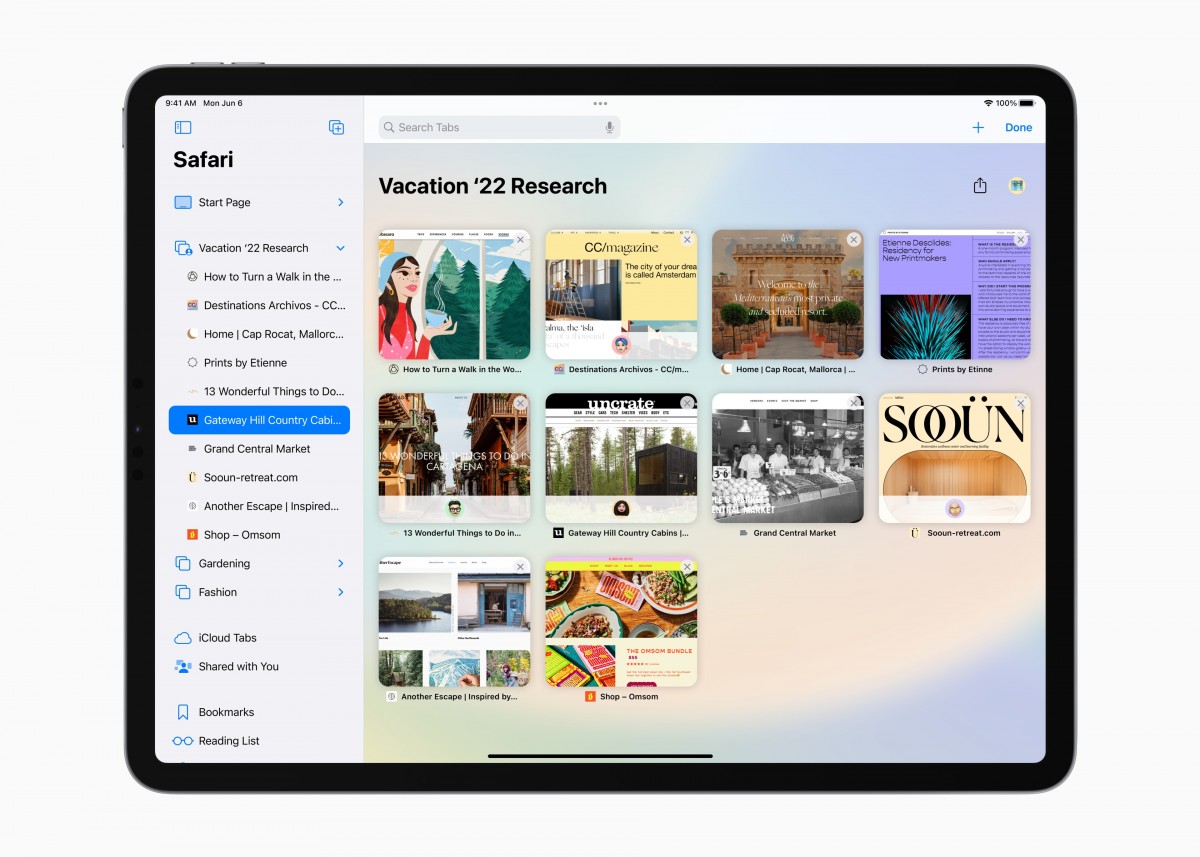 Safari shared tab groups in iPadOS 16
Safari also supports passkeys, billed by Apple as "an easier and safer sign-in method designed to replace passwords on the web and in apps". These are unique digital keys kept on the iPad and specific to the sites you create them for. Since they're never stored on a server they can't be stolen. You can sign in to websites or apps with your passkey by scanning the QR code with your iPad, and then using Face ID or Touch ID to authenticate.
The Weather app arrives on iPad with iPadOS 16, and Siri is able to automatically run shortcuts from apps, insert emoji when sending messages, and process more types of requests offline. The Home app has an all-new design, and adds support for Matter, a new smart home connectivity standard that lets accessories work together seamlessly across different platforms. Notes can automatically straighten your handwriting, and you can lock personal notes with your iCloud password.
Finally, iPadOS 16 has Reference Mode for color accuracy which enables the 12.9-inch iPad Pro to "match the color requirements in workflows like review and approve, color grading, and compositing". Display Zoom lets you increase the pixel density of the display, and Virtual Memory Swap uses the storage to expand available memory by up to 16GB.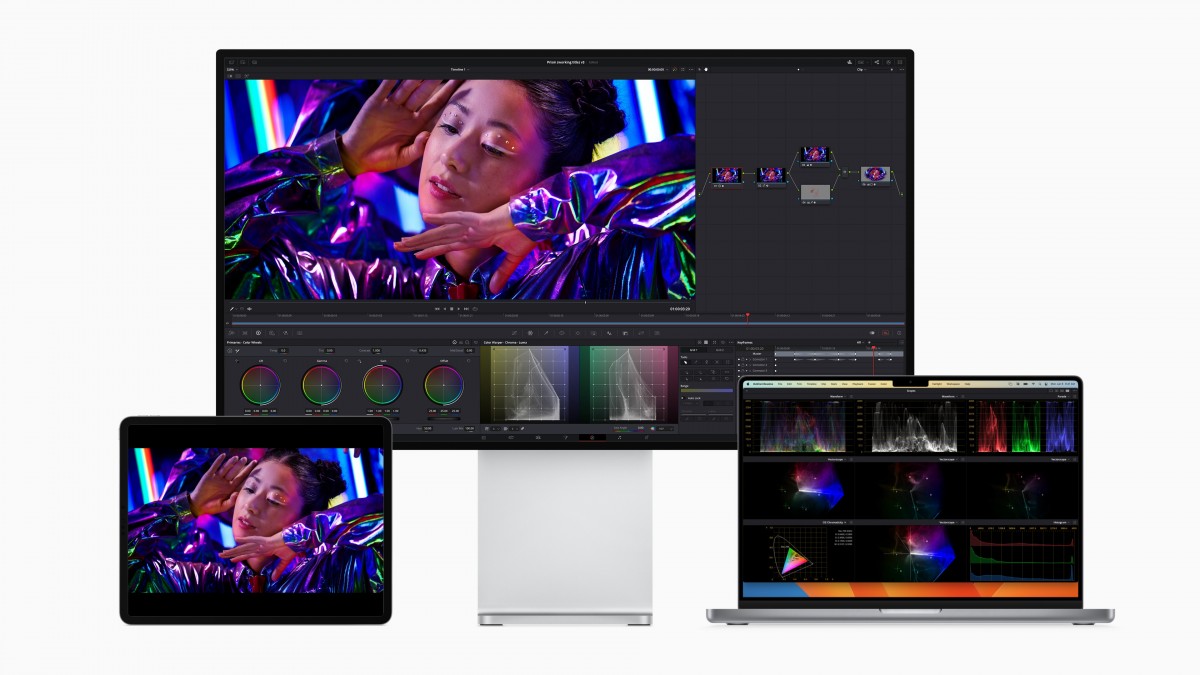 Reference Mode in iPadOS 16
Like iOS 16, iPadOS 16 will be out today in developer preview form, with an open beta available next month. iPadOS 16 is going to be available this fall as a free upgrade for iPad (5th gen and newer), iPad mini (5th gen and newer), iPad Air (3rd gen and newer), and all of the iPad Pro models.
?
Not interested, looks Apple focuses only on color matching, share and collaborate data among apps and users, nothing about my individual productivity like having arrow keys on my iOS and iPadOS on-screen keyboards. Rediscovering multi-windows and mul...
b
It will never be a replacement of laptop as long as they use iPadOS on tablet
ADVERTISEMENT